Bradl would consider dropping back to Moto2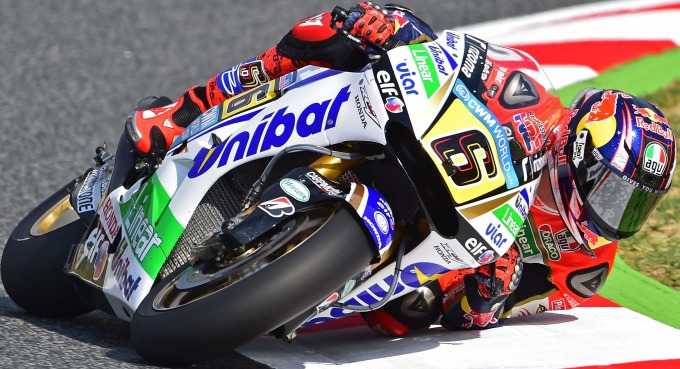 Stefan Bradl has admitted he wouldn't have a problem in dropping back down to the Moto2 class if the right MotoGP offer doesn't arise. 
The German won the Moto2 title in 2011, and has since been part of the LCR Honda team, but with only one podium in two and a half years aboard the RC213V, speculation has been rife that Bradl could be replaced at the end of the 2014 season, with names such as Andrea Iannone, Cal Crutchlow, Aleix Espargaro and Jonathan Rea all being linked with Bradl's seat. 
Bradl has stated his desire to where he is in the LCR team which he has referred to as 'a family' but pressure from HRC could force Lucio Cecchinello to part company with Bradl after three seasons.
Speaking to German website speedweek.com ahead of this weekends German Grand Prix at the Sachsenring, Bradl said that if he doesn't get the right offer in the premier class for 2015, dropping back to the Moto2 class would be a genuine option. 
"Nothing is impossible – that is the motto in this business," said the 24 year old. "I would certainly prefer it if I could stay in MotoGP. But if there isn't an attractive offer, but a lucrative offer from the Moto2 class, with a good team, with a good package and a competitive bike, preferably with a Kalex, then I will listen.
"My priority is to stay with Honda and LCR. But if I cannot get top material in MotoGP I have to consider going back to Moto2 for one year. (Mika) Kallio has gone back from MotoGP and is winning, Toni Elias won the Moto2 title in his first year in the class after returning from MotoGP."
There was also confirmation that Bradl hasn't yet received an offer from LCR or HRC for 2015, with Honda understood to be a little frustrated by the lack of improvements made by Bradl over the past 18 months. However LCR team boss Lucio Cecchinello did confirm that it is his desire to continue to work with Bradl. 
"I want to continue with Stefan because we want to further our project with a top Northern European MotoGP rider and we are convinced he has not yet shown his full potential," said the team owner. 
Quite what Bradl deems a good offer or a bad offer will shape his future, but it appears that should he not get a contract extension from HRC he won't have a shortage of interesting offers. 
Suzuki are understood to be interested in the young German, as are the Pramac Ducati team. With Ducati owned by German company Audi, a German rider could be a key marketing tool. Pramac Racing Director Paolo Campinoti has admittted to having an interest in Bradl, and is monitoring his situation closely with speculation they could loose Andrea Iannone to the Factory Ducati team. 
"It all depends on how things evolve, but it could be the case that several good riders are on the market," Campinoti told the official MotoGP website. "One of them could be Stefan Bradl…he is yet to renew his contract (with LCR Honda MotoGP)."
Another team who are interested in Bradl's services should he become available are Aprilia. Aprilia are said to be upping their effort for 2015, with the hope of a pneumatic valved engine and even rumours of a seamless shift gearbox, Aprilia are looking to come back hard, and get some data and experience under their belts before the control ECU's are enforced from 2016. 
Speaking again with speedweek.com, Aprilia Racing head Romano Albesiano said that he likes Bradl, but doesnt think he can offer a package as good as Ducati.
"I've heard that Ducati have offered Bradl a lot of money, so he won't be without a job for long," said Albesiano. "Bradl has great potential and is a very interesting rider. But I think that it is too early for us to think of top riders of his caliber. By 2016 we should be technically able to offer such a rider a package."