Marquez bemused and angry over Rossi's behaviour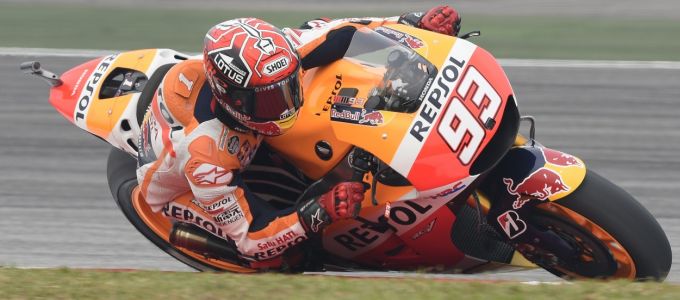 Reigning World Champion Marc Marquez said that current MotoGP World Championship Valentino Rossi totally lost control during today's Malaysian Grand Prix. 
This weekend has seen Valentino Rossi try and psych out Marquez, in typical Rossi fashion. The Italian really went after Marquez, claiming he was seeking retribution and was trying to help Lorenzo win this years World Championship. Marquez denied Rossi's claims, insisting that he was only focused on winning races for himself.
However, during this afternoon's race, tensions boiled over when Rossi and Marquez were embroiled in an intense battle for third place. Rossi was getting frustrated at seeing his title rival and team-mate Jorge Lorenzo, and eventually Rossi's frustrations took over, as he tried to run Marquez wide, he collided with Marquez, leaving Marquez on the floor, and subsequently out of the race. 
"I don't know the reality or reason of Valentino's team. In Australia I pushed really hard and I won the race, so I don't know what they want," said the out-going World Champion.
"Here, I tried to push in the beginning and I did [two minute] '00 on the second lap. When he [Rossi] overtook me the first time. I tried to follow him but then I saw I can be faster and then I tried to do my race.  Of course, I tried to overtake him to try to push and open some gap between me and him. Valentino was disturbing me and I was disturbing Valentino because we couldn't find the best pace.
"When Valentino was in front he was not very fast and after this incident, his lap time was high one minutes, low two minutes and I thought that I was able to ride even faster."
It was on the seventh lap where Marquez and Rossi collided. The incident really dominated the entire race, with the second half of the race almost feeling academic, with the entire MotoGP world, waiting to see what the outcome of the race direction hearing would be.
"You can see easily on the TV that I go in, I heard that the Yamaha was coming, I shut [off] a little bit and he stayed completely straight [on] the bike and he looked at me two times and I was [wondering] 'what's happening, what do I need to do', so I stayed there. I didn't expect that he would take off his leg and push my handlebars and my front brake.
"Then I lost the front and when I was in the floor I saw him look behind again.
"For me, it doesn't matter if you are Valentino or another rider, [in] this type of incident you are out of control. When you are a rider you know what is going on – to take off a leg and push another rider out, it is difficult how you can think this on the bike."
The end result of it all was Valentino Rossi will be forced to start the final race of the 2015 MotoGP season from the back of the grid in Valencia. Rossi was given three penalty points, which when added to the point he picked up in Misano gave him the punishment he faces. 
Despite being arguably the main aggressor in the battle, Marquez insists that the battle between the two of them cannot carry on. There is a genuine fear one of the two may end up injured, and Marquez wants to leave this whole episode in Malaysia
"I don't want to be involved in the middle of this but what I know is that I was out of the race and he was still riding; I get zero points, he gets 16. For me, the penalty is there and strange decision," said the 22-year-old.
"Of course, what happened on Thursday was surprising for everybody, but I forget and I did my weekend. All the eyes were looking at me and Valentino and I got out in the race to try to do my race and I was pushing, trying to follow Jorge, but then we started to battle and I say, 'I will follow him to see how is the rhythm', and I saw that I was pushing him.
"When Jorge passed me I was not able to follow and also I was not able to follow Dani. I saw that Jorge had opened a little bit of a gap and I said, 'I will try to overtake him [Rossi] to try to push', but then when I overtake him we start many overtakes since we arrive in the moment [of the crash]"
"I think this battle can not go more far because to arrive at the point when another rider kicks with the leg, we cannot arrive more far. I will try for next year and in Valencia to make a good set-up, a good bike and try to do a different type of race."
Photos via Repsol Honda