Pol Espargaro extends his deal with Yamaha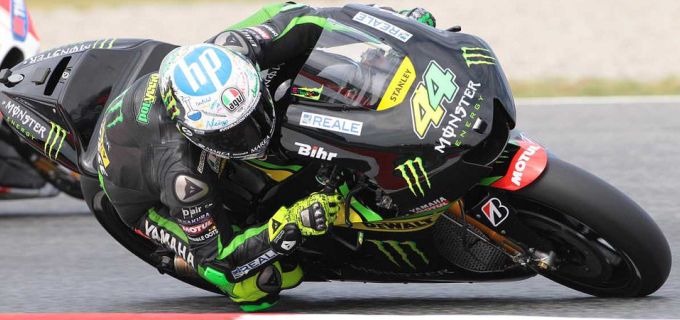 Pol Espargaro has signed a new contract with Yamaha for 2016, remaining with the Tech3 team.
Espargaro has ridden for the Monster Energy Tech3 Yamaha team for the past two seasons, since coming into MotoGP as 2013 Moto2 World Champion. His initial deal was signed directly with the Yamaha factory, rather than with the Tech3 team, with whom team-mate Bradley Smith's contract is with.
Upon signing with Yamaha, they viewed the Spaniard as Yamaha's answer to Marc Marquez, Espargaro's biggest rival during their Moto2 days. However, after being allowed a year to adapt to MotoGP, there had been some speculation that Yamaha were ready to cut their losses and not chose to renew Espargaro's contract for 2016. 
"I'm happy because renewing my contract with a factory like Yamaha is always going to be fantastic. Yamaha gave me the opportunity to make my debut in MotoGP and together, I think we had a really good first season. This year we are working hard to improve our results that have not been as strong as we would have liked at this point of the year. However, next season there will be some important changes in the category, such as the alterations to the technical regulations and especially, the changing of the tyre supplier.
"From my point of view, the less you change with regards to the team and the bike, the easier it will be to adapt to all of this. Despite some tricky moments this year, I know the bike and I know I can continue to work well together with Yamaha and Tech3 in order to achieve our goals.
"This announcement is also fantastic following the success at Suzuka, where we undertook some really good work together that concluded in the victory which was great for Yamaha and also for my confidence. Therefore, I hope that this result and the renewal of my contract will help me for the nine races that we still have left in 2015, which is the most important thing for me to focus on right now."
With this news, Bradley Smith will now be sweating on his future. Despite being 23 points ahead of Espargaro in the World Championship, there are mummers in the paddock Herve Poncharal wants to get current Moto2 World Championship points leader Johann Zarco in his side, as a Frenchman.