Forward Racing confirm Brno participation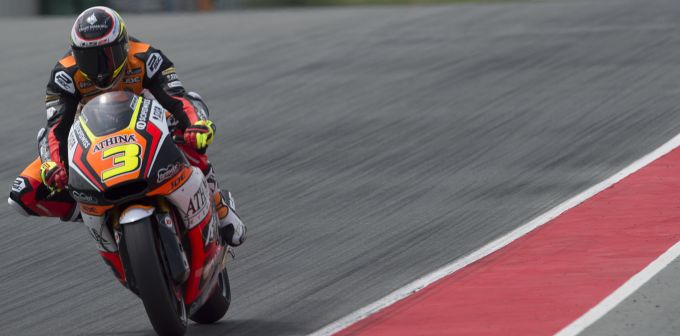 The Forward Racing team have confirmed that they will be in Brno next weekend, after being forced to miss this weekend Indianapolis Grand Prix.
The Italian team were forced with withdraw from this weekends Grand Prix due to finanical reasons, in the wake of the arrest of Giovanni Cuzari, Forward Racing Team Owner. Cuzari's arrest over tax issues led to sponsors withdrawing from the team, and leaving the team short on cash. 
With Stefan Bradl being released from his contract to sign for Aprilia in the place of Marco Melandri, Loris Baz will be partnered by Claudio Corti for the remainder of the season, after standing in for Bradl last time out.
"We are pleased to announce that Forward Racing will get back on track from the Brno Grand Prix scheduled on August 16th on the Czech circuit," said the team in an official press release.
"Following the arrest and the charges against Giovanni Cuzari, director and owner of Forward Racing, we agreed with IRTA – International Racing Teams Association – not to deploy our riders at the start of the Red Bull Indianapolis Grand Prix on August 9th, in order to gather all the resources and to better organise the upcoming trips. This painful decision was necessary in order to try to ensure our participation to the World Championship until the end of the season.
"Thanks to DORNA and IRTA and some partners and sponsors, who despite the objective concerns, they continued to support us – today we are proud to announce that we will get back on track, in both categories, from the bwin Grand Prix České republiky.
"In MotoGP Loris Baz will ride the Yamaha Forward alongside his new teammate Claudio Corti, who will replace Stefan Bradl. For the Italian rider this is a return in the premier class of motorcycle racing, after the Sachsenring race in July, where he replaced the injured Stefan Bradl. Corti has already been with Forward in 2010 in Moto2 riding a Suter bike and in 2013 in MotoGP with Colin Edwards riding a FTR-Kawasaki.
"In Moto2 we are proud to confirm the Italian duo composed by Simone Corsi and Lorenzo Baldassarri on Kalex."
Photo via Forward Racing