NGM Forward enjoy pre-season ice racing event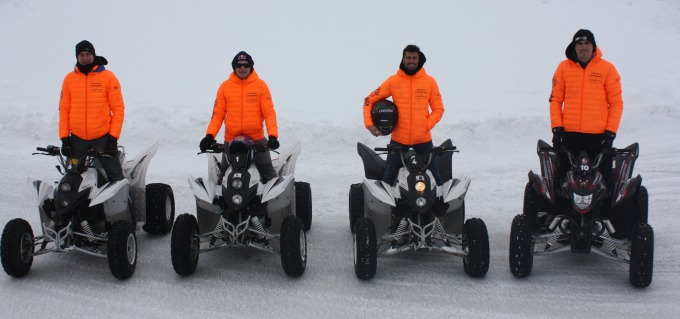 The NGM Forward Racing team enjoyed their ice racing ahead of the 2015 pre-season testing this past weekend. 
The four Forward Racing riders – Stefan Bradl, Loris Baz, Simone Corsi and Lorenzo Baldassarri – were in action in Livigno. The event included quad racing and rally racing on the ice, giving the riders the chance to relax and all the three new riders bond with their new team ahead of the serious testing beginning this week.
Stefan Bradl is a new recruit for 2015 for Forward Racing enjoyed his evening in Italy.
"Driving on ice is a great experience, it is so slippery! I like the winter time a lot, I enjoy being in the snow and skiing," said the German.
"In those activities always there is a lot of fun and this is the main thing. To be here in Livigno with all my teammates was great, we have created a great atmosphere with my team and the sponsors."
Bradl also turned his attention towards the upcoming Sepang test, his first full test after the very wet Valencia test back in November.
"I will try to get back on the bike in good form and be fast. Our main target is work on the bike and adapt to riding the Yamaha, but also we want to try to go fast and find a good setting that we can use for the race. Our goal for the upcoming season is win to the Open class and fight as much as possible in the top ten."
Bradl's team-mate is not only new to the Forward Racing team, but new to paddock as a whole, and he is excited to get a feel for his new bike in the blistering heat of Malaysia.
"In Valencia at the end of the last season the test was just for getting used to the bike and we are still modifying the position on the bike," explained the 22-year-old.
"The first real test will be this one, the first one where we can start to push. I just want to learn step by step and not make any mistakes. At the first race we will see where we are and then from there we can improve for the next races and can be closer to the top Open bike."
Photo via Forward Racing