Hamilton would love to test a MotoGP bike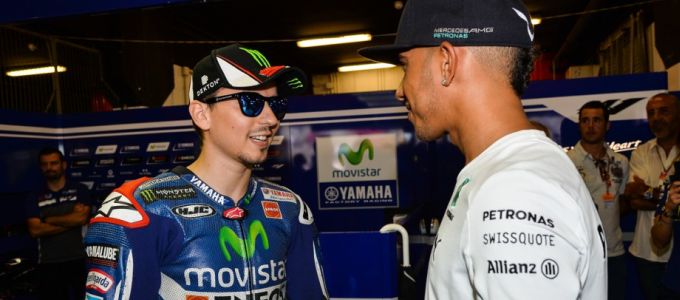 Double Formula One World Champion Lewis Hamilton has once again expressed his wishes to one day test a MotoGP bike.
The current Formula One points leader has already stated that one day he'd love a go on a MotoGP machine, after attending the French Grand Prix in 2013, and the Catalan Grand Prix in 2014. The Mercedes driver has once again admitted he wants to try his hand at MotoGP riding, much like Valentino Rossi did with F1.
"When I was a kid I wanted to race motorbikes. When my dad bought me my first go-kart I actually wanted a motorbike," he told the Daily Mirror.
"I'm not disappointed how things have turned out but bikes were my first love I suppose.
"I'd also love to test a MotoGP bike just to see what it's like. Naturally I'd know the lines but I'd love to know if I could even do it."
Hamilton noted the difficulties of riding a MotoGP machine, especially during the long Formula One season.  "It's easy to be popped off a bike, though, so you couldn't take the risk during an F1 season. But I'll definitely try it one day."
The logical bike for Hamilton to try would be the Yamaha Tech3, due to his, Mercedes and the Tech3 title sponsorship of Monster Energy. Current MotoGP World Champion Marc Marquez has also expressed his desire to one day test a Formula One car.
Photo via Monster Energy