Marquez would like to try an F1 car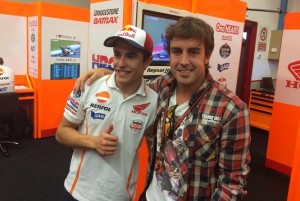 Marc Marquez has confessed that one day he would like to try his hand at driving a Formula One car.
The MotoGP World Champion met fellow Spaniard and double F1 World Champion Fernando Alonso at Mugello on Saturday shortly before taking his sixth pole position of the season.
After claiming his sixth pole in a row, Marquez spoke to about speaking to the Ferrari driver.
"I've never met him before and it was so nice to speak with a Formula One driver. It was his first time and he said it was unbelievable to see MotoGP live," said the reigning MotoGP World Champion. 

"Then we spoke about Formula One. We had the same opinion – if you have a good car, you can [do well] and if you have the worst car it is impossible. The car makes the difference [for success] not the driver. 

"About MotoGP he said that on the TV everything looks easy, that we are so smooth, but when you are here you can see that the bike is moving and sliding all the time. We had the same opinion, that with the bike, with your body and riding style you are able to manage and improve the [performance] of the bike.

"Someday I would like to try. I don't know when. Not early."
Of course Valentino Rossi has previously had a stint inside a Ferrari Formula One cockpit, lapping competitively in Valencia. When Marquez was asked what car he would like to test, Marquez remained as switched on commercially as ever. 

"We will see what is the situation, but of course now Red Bull [his personal sponsor]!" 
Marquez was then reminded that Honda will be making a Formula One return with McLaren next year, prompting the 21-year old to change his mind.
"Ah! So [I'd like to try the] Honda car!"