Marquez hoping to stay with the Yamaha's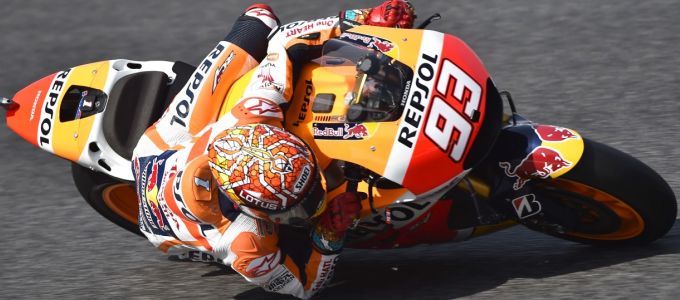 Marc Marquez is hoping he has the pace to stay with both Jorge Lorenzo and Valentino Rossi during tomorrow's Catalan Grand Prix, and he won't risk everything to stay with them.
The reigning World Champion is starting tomorrow's race from fourth position on the grid as he continues to work with the updates bought from HRC for his Honda RC213V. The advancements and updates that HRC have given to Marquez and his team mate have helped him cure the front end issues faced on corner entry on his Honda, but he still has work to do.
"I'm happy for this. Still it is not completely the same as last year but we improve a lot on this corner entry," explained the World Champion.
"This problem that we had with the big sliding, at this circuit we improve. With the exhaust, with the things we tried by the electronics, it looks like we improved and for that reason I'm happy."
Despite falling off last time out in Mugello, Marquez has vowed to not back off, or concede to the Yamaha's just because at the moment they have the better motorcycle. When asked if he had any plans to alter his riding style after seeing 20 potential points fall out when he crashed out battling for second place in Mugello, Marquez simply replied: "No."
"Tomorrow I will try to be with Yamahas until I see that is not possible. In Mugello it is true that I was there, but then I crashed. But you cannot start a race thinking 'I cannot push because maybe I will crash'. You must go out and then feel where is the limit and try to be there. I know I'm not in the situation to manage the race, to push a little bit more or less. I need to do my 100% all the race if I want to be there or as close as possible."
Suzuki surprised the entire MotoGP field by storming to a one-two in qualifying. Despite sitting in the first two positions, Suzuki were of course aided by the softer rear tyre, only available to bikes in the 'open' category. With Lorenzo in third position, Marquez is second of the bikes without the 'open' allowances.
"In FP3 still we tried many things and then in FP4 we tried to put the best of what we have and looks like the pace was better, but even like that still not enough for be with both Yamaha riders," he said.
"Especially Jorge but also Valentino is strong and that is where tomorrow in the warm-up we still try to work to find something to be closer for the second part of the race."
Marquez knows that Lorenzo is the favorite for tomorrow's race. On the back of three consecutive victories, and starting from the outside of the front row, Lorenzo is firmly in the driving seat. He showed his race pace whilst running very quickly for long periods during this mornings FP3 session, before Rossi and Marquez himself smashed Lorenzo's lap tires on much newer rubber.
"Jorge was really, really fast in those ten laps [in FP3]. The thing is that in those five laps maybe we can be with him, but then our tyre drops and it looks like he is able to keep the pace a little better. Looks like this morning Jorge was really strong, but this afternoon he kept his tyres, he was with used tyres, and even like that he was strong. We will try to be with him but we must be honest and at the moment still we are not ready to fight with them.
"What we are missing is rear grip on corner exit. The bike is spinning, is moving, and is the most difficult point. I think everybody is struggling with rear grip but looks like Honda riders are struggling a little bit more, but we will try to be as close as possible to Yamaha riders that look the strongest."
Marquez' best hope of causing an upset tomorrow afternoon could be if Lorenzo gets caught up with the Suzuki's. Marquez predicts that the Suzuki riders will be "there" for the first ten laps at least. Lorenzo would be well advised to either get well ahead of the Suzuki's or not get involved. He is thinking and fighting of a championship, whilst Suzuki have two riders hoping to claim their first victory in MotoGP. If Suzuki can interfere then Marquez may be able to battle and stay with the Yamaha's.
"Looks like not only Aleix but both Suzuki riders are really strong," Marquez said. "Especially on one lap but not only one lap. Also on race distance, especially Aleix is stronger. I think the first ten laps they can be there, then we will see. They did a big step also with the top speed. They are like 6-8km/h slower than us so congrats to Suzuki because they did a good job."
Photos via Repsol Honda