Lorenzo fearful of team-mate Rossi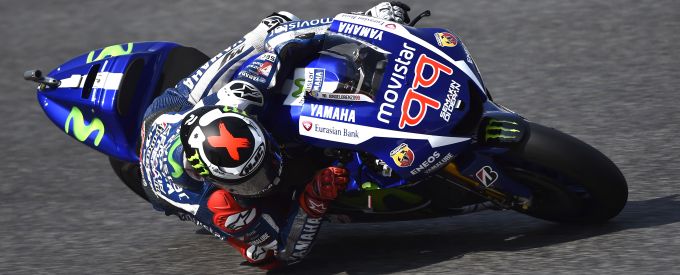 Despite starting on the front row for tomorrows Catalan Grand Prix, Jorge Lorenzo remains fearful of his team mate Valentino Rossi.
Rossi will start the race in seventh position, heading the third row, whilst Lorenzo will start on the outside of the front row. In spite of being in blistering form himself, and having superb race pace after a scarily quick run on used rubber during FP3, Lorenzo is expecting to be pushed all the way by his elder team-mate.
"Valentino is a Sunday rider," said the Mallorcan.
"Not so many pole positions if you compare with how many victories he has. And he's always there in the race. Our bike is very competitive, keeping a constant pace at all the tracks so for sure Vale is trying to get the best set-up. He is going to be one of the favourites for victory, no doubt about it. The championship lead? I don't know. It depends on the result tomorrow.
"From one side I think it's good for the two Yamahas to finish one-two, for the factory, because we are fighting against Honda and now Ducati and Suzuki. If I think about myself my first rival is Valentino and the most riders that stay in front of him the better for me for the championship. But for sure it's going to be complicated because Valentino always goes very fast in the race and tomorrow will be there."
Honda have had a tough 2015 season thus far. Chassis problems have been the biggest concern for them, but new parts bought to this weekends Grand Prix has given Marquez a new hope he will be able to challenge the Yamaha's.
"The results suggest Marc is the strongest," he said. "For the moment I think Marc has a better pace and chance to fight for victory than Iannone, who can also make a good race.
"Suzuki is doing a great job, improving the bike a lot. I had the opportunity to follow them and the bike seems very stable and they have a lot of traction on the exit of the corner. Obviously tomorrow they are going to use the normal tyre and for sure for them it will be a little more complicated, but for sure the brand is making a big improvement.
"Honda is improving and Ducati made a great job during the pre-season and we also made our improvement. Which we need to continue because MotoGP doesn't sleep."
Lorenzo's FP3 times this morning sent a clear message out to his rivals, he has the pace to compete over a full race distance. Despite having superb grip, and being capable of putting in unmatchable lap times on used rubber, Lorenzo is still planning a few small changes to the set-up, hoping to assert his domiance on the MotoGP field once more. 
"I'm pleased with the work we are doing on the bike because this track seems a little bit more difficult for our bike. We needed to work more than normal to set-up all the areas, but finally little-by-little we make a stable bike, especially when the tyre drops. Which here drops a lot compared to Mugello which has a really grippy tarmac and the pace is very similar all race. Here when you put a new tyre you can go very fast, then when the bike starts moving and spinning it's very difficult to keep a pace if you don't have a constant bike. So we made it, I think we have a little bit of margin to improve in small details in some corners, but in general the bike is ready and I'm also ready to fight."
Photo via Movistar Yamaha