Lorenzo: You can't even see this in Formula One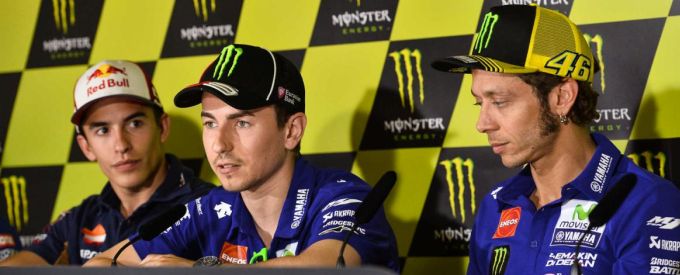 Jorge Lorenzo is on a charge, leaving all rivals in his wake at the minute. Despite his current stronghold on the MotoGP field, he is excited with how the 2015 season is panning out, with up to six riders competing for victory every weekend.
2015 has been an exciting season for riders and fans alike so far. The resurgence of the Yamaha M1 in the hands of both Lorenzo and Rossi, as well as Ducati's long road to success finally starting to come to fruition has seen Honda fail to dominate in the same fashion as they did in 2014. All of this has given us great racing, with up to six different winners in most races, making this season one of the most unpredictable season in recent memory.
"The level is very high," Lorenzo said during Thursday's pre-race press conference. 
"It's a great show, because six riders battle in every race for the win. You can't even see this Formula 1. Fans will experience maximum voltage this season. The riders might not enjoy it as much as the fans, but then when we see it on TV, we also have a lot of fun."
Should Lorenzo claim a fourth victory in a row – the first time he would achieve such a feat in MotoGP – this weekend, he could potentially leave his home Grand Prix as the new series points leader. The Mallorcan is currently six points behind his team-mate, and he heads to the circuit that saw him claim victories in both 2012 and 2013.
"Of course, we arrive in Barcelona in good shape. We're working very well in the garage to find the best set up at each circuit we go to. But the past is the past. The past successes do not guarantee that we will do it again at the next race. 
"You have to keep your feet on the ground. In the first three races I wasn't on the podium. This could happen all over again."
He continued, "This track isn't a bad one for us. Valentino battled last year till the final lap for the win. I couldn't keep up because I had problems on the corner exit, but this bike isn't the same as the one we had in 2014. Nevertheless, we were able to fight for the win, which means this is a good circuit for Yamaha. This year our bike is better, so it should be a good race for us. But we have to prove it." 
Photos via Dorna