UPDATED: Suzuki storm to historic qualifying 1-2 – Espargaro on pole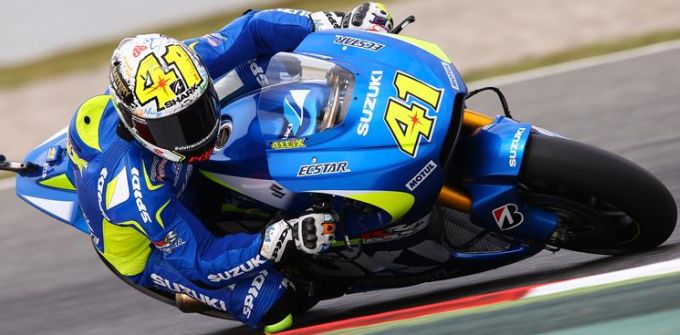 Aleix Espargaro gave Suzuki their first pole position since returning to MotoGP and their first pole position since 2007. Espargaro's rookie team mate, Maverick Viñales was second fastest, meaning Suzuki have their first 1-2 since the Spanish Grand Prix in 1993. 
Suzuki bought new engine parts to Barcelona in a bid to improve through the speed-traps, where Espargaro was second slowest last time out in Mugello. The combination of the new engine parts, as well as the softer tyre, only allowed to the open bike, and their very good chassis was enough to see the Suzuki's cause what can only be described as an upset.
Fastest through Friday free-practice, Espargaro took the lead after the first set of Q2 laps, before being bumped down to the outside of the front row after first Marquez, and then Lorenzo took over, breaking the qualifying lap record in the process. However, with just over three minutes remaining, the less publicised Spaniard stole the show, and the lap record, posting an unbeatable 1'40.546. 
Despite receiving new engine parts, Espargaro was still only seventh fastest in the first sector, and sixth in the third sector, both of which contain the long straight's. However, what he lost out on the straights, he made up in the second and final sectors and the fast corners that make those sectors.
"Unbelievable. I pushed 100%. With the first tyre I push a lot but not to the limit, the second tyre I push, everything or nothing," said Espargaro who grew up less than 10 miles from the circuit.
"I almost crashed because I opened the throttle so early. First and second for Suzuki is great after the work they have done it's like a present for them. Hopefully we can be near the front tomorrow.
"Let's cross our fingers and hope for a dry race for all the people coming tomorrow. I think it's much better dry than wet. We did a lot of laps on used tyres in FP4, 25 like the race. I think our pace is very similar at the top. Yesterday I said pole wasn't important, but it will be a dream to fight with Jorge, Marc and Vale for the podium."
Viñales has had a week to remember, after receiving high praise from the likes of Crutchlow and Petrucci, he was invited to attend his first press conference as a MotoGP rider. Shortly after he took to the track, and has built on his career best seventh place last time out. Fastest on Saturday morning FP3, he oozed confidence as he followed Espargaro over the line, just +0.083, thus rounding out the top two spots for Suzuki. 
"[I was] So close," said the 20-year-old. "But honestly we are so happy because we are working really hard and improving step by step. At Mugello we made a big step and also, ok we have a little bit advantage on the tyre but you need to do it. You need to push so hard all the time, you need to go I think a little bit crazy to make the lap time.
"Finally the race is tomorrow. We know that we have a good pace, just we need to work more for the last part of the race because it is difficult. We have still a bit of some movement. But then tomorrow I will go 100% and for sure I want to fight with the top riders because then I will learn a lot. Also I will get a so nice experience and I think for Assen we would be more ready.
"[Race pace] was really good. When I was with the hard tyre I was consistent but we will see, the race will be hot and 25 laps will not be easy. Just try to get a lot of experience, try to fight with the top riders and try to get the best information for Assen."
Jorge Lorenzo rounded out the front row, whilst Marc Marquez could only manage fourth position. Marquez said he thinks the Suzuki's will be around for the first ten laps, and then "we will see". Whether Suzuki can hold their pace or not remains to be seen, but in just their seventh Grand Prix since returning, Suzuki will be over the moon with their progress, pole position and qualifying one-two.
Photo via Suzuki-racing.com