Rossi confident as MotoGP heads to Barcelona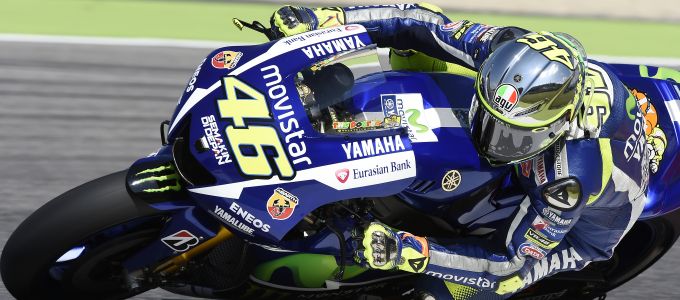 Current MotoGP series points leader Valentino Rossi is confident as he, and the rest of the MotoGP paddock head to Barcelona.
Despite leading since the opening round, with victory under the floodlights in Qatar, Rossi has had to watch his team-mate take huge chunks out of his lead. Three wins in the last three races for Lorenzo means the gap between the two team-mates is now just six points. 
Rossi has been super consistent this season, claiming wins in both Qatar and Argentina, whilst finishing on the podium at every race so far in 2015. Despite this, a sign of how close is rivals are, is an example of how high class this season's MotoGP field is. As well as his team-mate finding form from Jerez, Rossi has the added drama of have to deal with a pair of exceptionally quick Ducati's, as well as a battling a wounded Marquez and Pedrosa. 
2015 has seen the Yamaha M1 take huge steps forward, and become the bike to be on. Despite it's now dominance, Rossi believes there is still more to come from his bike.
"I think Catalunya GP will be another good race, it seems that all races are great this year," said the Doctor.
"The three main manufacturers are more or less at the same level and at every race you can expect everything. I love Barcelona, this is one of my favourite tracks. It's always difficult to go fast in that track but last year I rode one of my best races and this year I'm in good shape.
"We have to improve a few little things. We have to be better at finding the right set up for the bike and we have to be faster so we can start the race from a better position.
"The YZR-M1 is going really well, we are first and second in the championship and the last few races of Jorge proved the bikes' competitiveness. We are close and we will work strongly to make it a nice weekend in Barcelona."
Photo via Movistar Yamaha