Marquez confirms upgrades on his Honda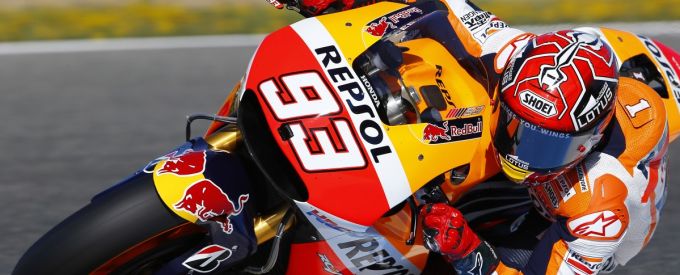 Marc Marquez today confirmed he was going to receive a new exhaust and other new pieces for his Honda RC213V for this weekends Catalan Grand Prix.
The Honda problems have been well documented over the past four weeks, but Honda are hoping that their latest upgrades can help Marquez return to the top step of the podium for only the second time in 2015.
"Honda will provide something for the race weekend. We're getting a different exhaust and other things that might be able to help us. We need good weather to be able to test the new parts, but also on Monday [at the post race test] we can continue to test. This will be important for us."
When asked if he can say more about the "other things" a smiling Marquez, replied: "No. We get the new exhaust. I have some ideas I will get parts for the interior of the machine. Everything else we keep to ourselves."
Marquez returns to the Circuit de Catalunya where he has finished on the podium during his last five visits to his home circuit, including victory in last seasons MotoGP race.
This time 12 months ago, Marquez was about to win his seventh race of the season, the seventh race of the 2014 season. This year he finds himself fifth in the championship, a whopping 49 points behind current series leader Valentino Rossi. Despite his current predicament, he comes to home in a confident fashion.
"This year we arrive here with a different situation to last year. I'm still motivated, I feel confident," said the Spaniard.
"We tested on Monday in Mugello, albeit with the Michelin tires, but we could try a few things that gave us a small improvement. For Barcelona we have a few ideas. For the race, I'm confident. We will work as we did in Mugello, because we need to improve. But I want to give the fans a great weekend."
Marquez has enjoyed a very successful, short career thus far in MotoGP, but his entire Grand Prix career has seen ups and downs, so his current predicament is nothing new to the 22-year-old.
"During a season ups and downs always occur, but MotoGP is MotoGP. Of course anything's possible, 49 points is a lot, but not impossible. My main goal is to enjoy riding the bike again. We must continue to work. I think we are already close."
Mugello was an eventful weekend for Marquez. After qualifying in 13th position, he found himself up to second after just three laps, before eventually losing the front end of his bike and crashing out. Despite what could be described as his worst weekend as a MotoGP rider, Marquez insists that his confidence is as high as ever. 
"No, it did not affect [my confidence]. I had said before the race, that it's time to take a risk. It worked very well in the first three rounds, but I was still on the limit, just to keep up with Andrea, Valentino and Dani. In one moment, I lost the front and crashed. But that can happen when you are riding at one hundred percent. 
"My plan is the same here. I want to be strong in the practice sessions and then risk something in the race giving one hundred percent."
Photos via Repsol Honda & Dorna