Loris Baz post Mugello Interview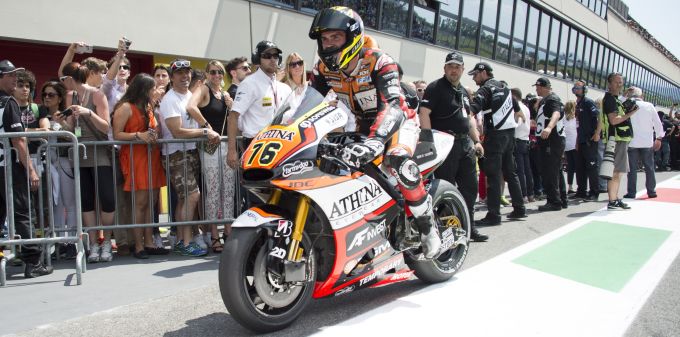 Last time out in Mugello, the open class was won by a rookie, who came into the class with a high reputation and has impressed from his debut in Qatar.
If you didn't already know, you would be forgiven for thinking that I was talking about Jack Miller who is making his debut in MotoGP with the LCR Honda team. Despite the young Australian's positive start to the season, he has been place in the shadows by another rookie, that of Frenchman Loris Baz.
Baz is enjoying his first season with the Athina Forward Racing team, and his results have really made people sit up and take note of how the former World Superbike race winner is fairing in his rookie campaign in the premier class of motorcycle racing.
In just his sixth race of his MotoGP career, Baz won the open class battle in Mugello, finishing twelfth overall. After just missing out on claiming top open honours at his home Grand Prix in Le Mans two weeks earlier, Baz made sure he didn't miss out, last time out in Tuscany.
Baz said he is feeling confident and happy in MotoGP, but isn't going to just rest on his laurels after such a positive result in Mugello.
"When you're going fast, you always enjoy where you are," the Frenchman told GPxtra.com exclusively before this weekends Catalan Grand Prix.
"I feel better and better on the bike, with the team and I think this is being reflected in the championship standings after Le Mans. I feel good and just want to keep learning and continuing learning, whilst getting as close as I can to the top ten. That's one of my main targets. We have to be faster, but so far it's going well.
"I still think I can improve everything," he continued. "I am quite strong on the brakes, and strong and consistent in the races. I have to be a little more consistent on Friday and Saturday practice, because that will help the electronics guys. I want to be more consistent, doing laps with close lap times – much like what Jorge (Lorenzo) is doing, he is the best at this.
"Other than that its just small details. I am improving every race, and I am hoping I can make another step forward each weekend."
Whilst Baz' form in Mugello may have surprised a few people, Baz himself wasn't surprised with the pace of his Forward Yamaha. Baz pointed to the fast sweeping nature of the track, and how it favoured not only his bike, but also his riding style.
"I expected Mugello to be a good track for us, because it's not so stop and go, which is where the electronics come into play. Stop and go circuits are not good for us because of the open electronics we have on the bike. We lose a lot of time on the exit of corners in this area, with traction control and wheelie control. 
"It suited the bike well, and my riding style too. I am not so fast in the slower corners, but we are fast in the fast corners.
"The only area we were let down in Mugello was the straight. We are not so fast in a straight line, so I was a little worried about that. But we managed to make it work, so I am hoping we can do the same here, with this long straight."
The 22-year-old admitted the two positive results in Le Mans, and then Mugello have really helped his confidence, and he hopes to continue this form and ride the crest of this wave right up until the summer break.
"It's really good for my confidence," he said. "My target was to be close to the first open guys by the middle of the season, and I have been doing it since Argentina. I then won the "Open Race" in Mugello, I just want to have one or two more by the break. 
"We will see, but it is good for the confidence for sure, and I will do my best to have three great races before the break."
Before the start of the season when we caught up with Baz, he told us his ambition was to try and reduce the gap between himself and the top Open bike. Six races later, and he has not only reduced the gap, but now become the man with the target on his back. Though not satisifed with just one Open win, Baz now wants to repeat this success as many times as possible.
"The goal is to stay in that position (as top open bike) I still believe there are some faster riders than me, like Stefan. So I have to continue to improve and stay close to them. But I am training to replicate Mugello, and that would be perfect. That, and to reduce the gap to the top ten. It will be a lot of work, but I think we can close the gap. So we will see.
"I have achieved one goal for the season, but only once. I now need to do it again!"
Photos via Forward Racing