Suzuki to receive new engine parts for Barcelona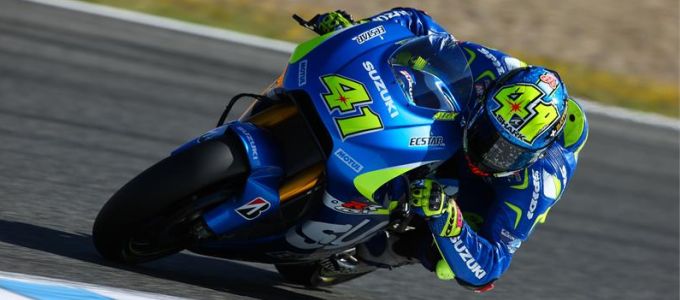 Suzuki have confirmed that their riders, Aleix Espargaro and Maverick Viñales will receive engine upgrades for this weekends Catalan Grand Prix.
The Spanish duo have impressed on the underpowered GSX-RR, but they have seen any hopes of competing with the front runners dashed, by their bike being as many as 20kph  down the straights compared to the Ducati.
Suzuki came into 2015 with an underpowered engine, due to reliability issues they faced at the end of last year, especially when Randy De Puniet faced multiple issues whilst wild-carding at the season finale in Valencia. Unfortunately for Suzuki, the conservative nature of their engines means that during the last Grand Prix in Mugello, Aleix Espargaro was the second slowest bike through the speed-trap, only beating the ART of Alex de Angelis.
Espargaro has now confirmed that he, and Viñales will be the lucky recipients of new engine parts directly from Suzuki for this weekend.
"My GSX-RR has proved to be performing well during this early part of the season and my feeling is that we still didn't get the results we deserved," admitted Espargaro.
"In Barcelona we will get some new parts and I'm very curious to see how the machine will be improved, I know that in Japan our engineers are working very hard because we fully believe in the project, so I'm looking forward to do my best and make a positive weekend."
Viñales is coming off his best career finish in MotoGP with a great seventh place. The rookie has been earning serious praise from MotoGP rivals including Cal Crutchlow and Danilo Petrucci – who think the Spaniard may end up being the next MotoGP alien. Viñales however, heads to Calaunya in high spirits.
"I'm pretty confident that I will enjoy the Circuito de Catalunya on the Suzuki, it's a fast track and our machine proved to be very good to ride thanks to its chassis," he said.
"Plus we will get improvements for the engine of our machine, I'm really curious.
"I'm aware that I still have a lot to learn, in particular my team and I are working on the management of the sessions and the tyres, to improve the pace but also to be more effective in qualifying and to enter Q2 to have a good position on the grid. This will be key for the future."
Photo via www.Suzuki-Racing.com