Casey Stoner confesses he has no desire to return to MotoGP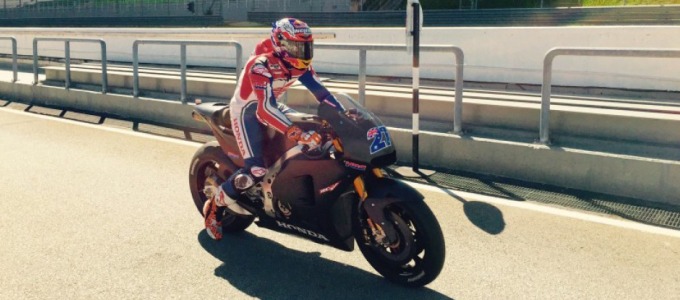 Casey Stoner has confessed he has no desire to return as a full time MotoGP rider, although he does miss riding sometimes.
Stoner was speaking as he revealed his 2015 Suzuka 8-hour Nolan helmet, a special, new liveried helmet for the Japanese event which will see him return to competitive racing.
Stoner of course famously retired from MotoGP in spectacular fashion, when he dropped the huge bombshell at the 2012 French Grand Prix pre-race press conference. He told the packed room of journalists of his intentions and desire to leave MotoGP at the end of the season. Stoner couldn't claim the world title that season, and he admitted that was his only regret about leaving MotoGP when he did.
"I decided to quit on the Monday before the Le Mans GP. I sent a letter to Nakamoto and he was the first to understand my decision," said Stoner.
"I don't have any regrets. It would've been nice to finish as world champion, I could've done it, but I made ​​a few mistakes. Maybe that's the only regret, but it is the only and I have no desire to return."
Stoner did reveal via Twitter that he would've liked the chance to replace the injured Dani Pedrosa, whilst his former team mate was out injured with an arm pump issue, only for HRC to deny Stoner the opportunity, and instead get Hiro Aoyama to ride instead.
Bummer I'm not racing, no prep was needed as I wasn't planning on winning, just replacing a good friend and having some fun in Texas!:)

— Casey Stoner (@Official_CS27) April 9, 2015
"Although I asked to replace Pedrosa, that doesn't mean I want to do a wild card or come back to MotoGP. It was something I wanted to do for Dani, and I would've liked to race in Texas and Argentina – new tracks for me." the former World Champion admitted.
"I didn't know how competitive I would be, but then I didn't have any expectations. Maybe I could've helped Marquez, I would've only returned for a couple of races. Honda unfortunately decided otherwise, and I respect their decision, our relations have not changed.
"You know that I love to fish and now I have more time to do it (laughing). I'm enjoying life and I'm not thinking of coming back. I remember the pressure and the tension I felt and I don't want to relive it. Sometimes I'd like to do the free practice and qualifying, but then I go to see a GP and the stress on the faces on race day."
Stoner said that he understands that many of fans, especially European ones don't understand quite why the Australian retired when he did. Stoner cited wanting to watch his daughter grow up, as well as failing out of love with the way that MotoGP had gone, and wanting to start a new chapter in his life, this is something that Stoner maintains is still nothing, but the truth.
"I know that lots of fans, especially in Europe, are struggling to understand the reasons for my retirement. But I've only told the truth. I'm not one of those riders who always smiles for the cameras and thinks something else, they're very good at masking their own emotions. It is not a question of money either, I didn't race for that. I was the same with Nolan, I was with them because they believed in me from the beginning."
2015 has been one of the most memorable seasons in recent memory. A return from Stoner would've made it even more eventful, but the six races thus far have been nothing short of spectacular. The two-time MotoGP World Champion was asked what he thought about the season thus far, and who he thinks has been the standout rider of 2015.
"If you ask me who is the best rider in MotoGP, I should say Valentino because he leads the standings, but Marquez had ​​two great seasons," he explained. "In 2013 he was lucky, because Lorenzo and Pedrosa were injured, but arrived in 2014 with great confidence and a bit more experience.
"There's no doubts this is a good season, you never know who will win on Sunday. It's great to see Valentino back there, but if I have to choose who to support I would say Lorenzo and Pedrosa, two riders who I know well and for who I a lot of respect.
"Marquez' season has been strange, I didn't expect him to dominate like last year, but even so, he's doing a great job."
And what's wrong with the Honda?
"I can not say (laughs). But I know what's wrong, I had already noticed it during the test in Malaysia."
The Suzuka 8-hour will generate more interest in Europe than it has in recent years, mainly due to the addition of the Aussie, and it's something that the 29-year-old said he has wanted to be a part of for a long time.
"Honda was asking me to do the Suzuka 8-hours and it was something I've wanted to do for some time. All my idols from the past have taken part in it. When I was in MotoGP was impossible, because I had too many commitments.
"I know it will be a long and difficult race from the mental point of view but the SBK bike is less physical and more fun to ride. In truth, when I tried it the first time at Sepang I was amazed at how much slower than the MotoGP bike. At the points where I had to come off the gas on the RC213V, I could hold the CBR throttle wide open. It's easier to ride."
Photo via Casey Stoner