Suzuki hoping to challenge for podiums in 2015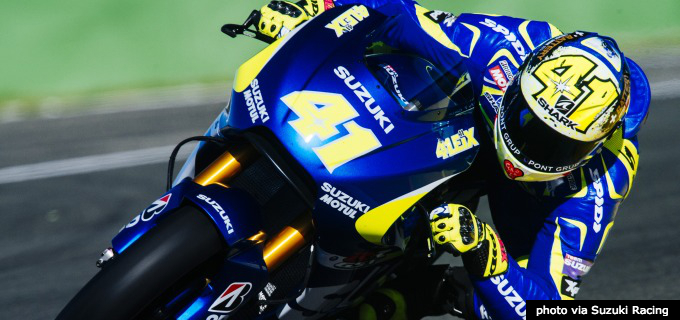 Suzuki boss Davide Brivio has said he is hopeful his returning Suzuki MotoGP team can challenge for podiums in 2015, and be challenging for the World Championship in three years.
The Japanese brand will be making their highly anticipated return to the Grand Prix paddock in 2015, and their two rider, full factory effort will be headed by Spanish duo Aleix Espargaro and Maverick Viñales. Other than a wildcard appearance, that lasted just twelve laps in the 2014 season finale at Valencia, Suzuki haven't competed in a MotoGP race since 2011. 
Despite the self imposed sabbatical, Brivio is confident that positive results will come quickly. With a brand new Suzuki GSX-RR for next season, he is hoping that Suzuki will be fighting for podiums come next season. With Espargaro finishing the first official test in fourteenth position, 1.4 seconds off Lorenzo's fastest time in Valencia, and Viñales even further behind, Brivio knows it won't be an easy target, but is one they're determined to achieve. 
"No, we don't have a specific goal [for 2015]. MotoGP is a very big challenge, of which we are aware," Brivio told German website speedweek.com. "Competing in MotoGP is very difficult. 
"Nevertheless, you have to set goals, as in any sport, you have to have ambition. We're hoping that some times, we can fight for podium positions in 2015, and in three years, we want fight for the title.
"For us, this means that we have to ride in every race in the top group, and fight against the best riders."
In Espargaro, and particularly Viñales, Suzuki have two very good long term riders, riders who can develop the bike, and move the brand forward. With Viñales signed up for three years, Suzuki's commitment in their return cannot be questioned, and Brivio wanted to stress that Suzuki are fully behind their MotoGP project.
"We need MotoGP to help promote the brand and our products," explained the Italian. "We want to show we are better than we have the past, but are we aware that won't be easy. Suzuki will draw satisfaction from the MotoGP commitment, and we will do our best."
Suzuki haven't won a MotoGP race since Chris Vermeulen's famous victory in Le Mans in 2007, and haven't won the premier class title since Kenny Roberts Jr. won it in 2000.