Aleix Espargaro eyeing up factory bike for 2015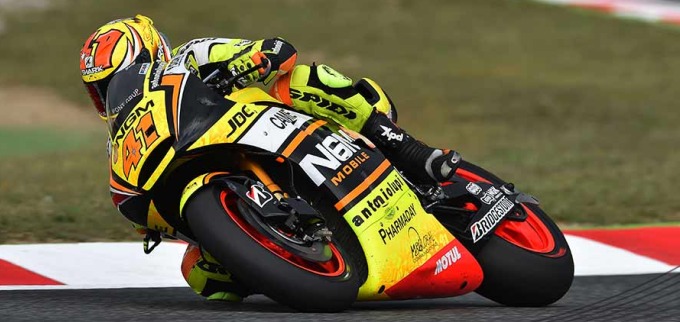 Top open class rider Aleix Espargaro has said he would like to be on a full Yamaha prototype bike for 2015.
The elder Espargaro brother has admitted that he would like his NGM Forward Racing team to lease a fifth Yamaha M1, the same as the bikes given to Tech3 duo Bradley Smith and Pol Espargaro, rather than just the M1 engine like he has in his Forward bike this season. 
Whilst this seems an unlikely outcome, with Yamaha renowned for being very consistent with their 2 full factory bikes and two satellite bikes going to Herve Poncharal's Tech3 team. Rules forbid a fifth full prototype bike being allowed on the grid, with IRTA rules only allowing a maximum of four factory prototype bikes per manufacture. 
This has not however deterred Aleix Espargaro from hoping for a full prototype bike, and speaking to MCN, the elder of the Espargaro brothers said he hopes to be on a more factory supported machine next season. 
"We are in talks with a lot of teams but we are focused with my bike this year because the results are not what I want," explained the Catalan. "If I am strong with this bike then I will have more chance to have an official bike. I would really like to have a factory Yamaha in Forward.
"Maybe Herve Poncharal (Tech 3 boss) would like to take one Open bike and one factory bike. I don't think so but it is a chance.
"Maybe if Yamaha are happy with Forward and me they can give me the option of an M1 in Forward. One thing is clear, I want a factory bike next year and the first option for me is to stay with Yamaha."
Despite Yamaha being the first option, Aleix is aware that his future may lay elsewhere if he wants to get that factory ride, and one possible avenue is the returning Suzuki team. Espargaro confirmed that he has been one of the many riders who has negotiated with Suzuki. 
"Obviously Suzuki is a good option because it is a factory team but we will see what happens with them," said Espargaro.