Rossi doesn't consider Marquez in a crisis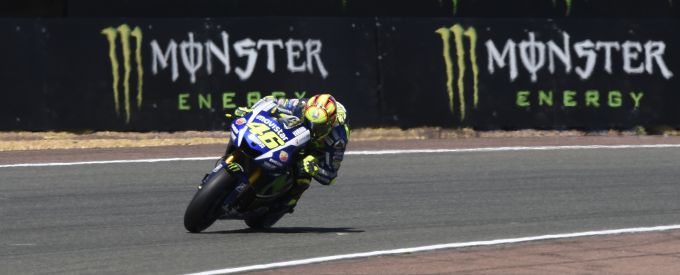 Marc Márquez isn't in a crisis, and is still a major contender for the 2015 MotoGP World Championship; this is according to current series leader Valentino Rossi.
After Sunday's French Grand Prix which saw Jorge Lorenzo head a Yamaha one-two, Marc Márquez finds himself 33 points behind the Doctor, and down in fourth place in the standings, with Jorge Lorenzo and Andrea Dovizioso sandwiched between the two.
Márquez has endured a difficult start 2015. With just one win in the first five races, and only one other podium, as well as a DNF after a coming together with Rossi in Argentina, it couldn't be any more different to his 2014 start, which saw him win the opening ten races in a row.
Front-end issues plagued the Spaniard in Le Mans, but despite not replicating his 2014 form, Rossi believes it would be stupid to write off Márquez after just a quarter of the season.
"Marc is a little bit behind in the championship also because he doesn't have the 20 points from Argentina [after the clash with Rossi]. And after the first three races I heard also that Jorge was in crisis and now he won two races in a row," explained the nine-times World Champion on Sunday afternoon. 
"This can happen also to Marc because he is a double world champion. He is a rider with an incredible amount of talent so he can arrive at Mugello and win without any surprise."
Rossi also took the opportunity whilst talking about the championship to throw the name of his compatriot, Andrea Dovizioso into the ring. The Italian hasn't won a race yet this season, unlike his three title rivals. He has however, been incredible consistent, and sits in third position on the new GP15.
"I think that the [world title] balance will change week by week and I think all four names [Rossi, Lorenzo, Márquez and Dovizioso] are fighting for the championship. Also Dovi because he is very fast, very constant," said Rossi.
"In Mugello they [Ducati] go for a test, make a good lap time, work very hard. So I think that also Ducati will be there."
Despite playing up the chances of both Marquez and Dovizioso, when pushed for one name, the Italian did confirm that he sees the man on the other side of the garage as the biggest challenger for his quest for, yet another world title.
"In this moment I think Jorge is the rider more in shape, more dangerous, more difficult to beat." 
Photo via Movistar Yamaha