Marc Marquez breaks finger; undergoes surgery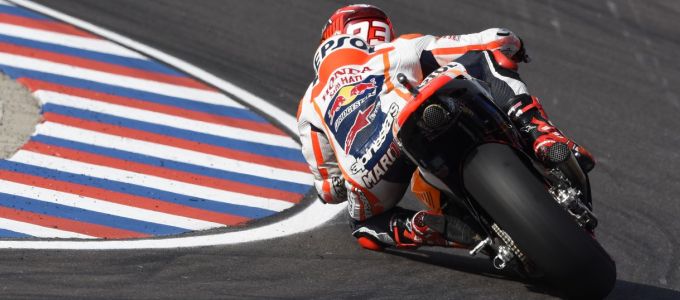 Reigning MotoGP World Champion Marc Marquez has undergone surgery on a broken little finger, on his left, after a motor cross crash. 
The 22-year-old was training at home in Barcelona when the injury occurred, and the Spaniard was swiftly transferred to the Hospital Universitario Quiron Dexeus where he was operated on by MotoGP rider favourite Dr. Xavier Mir. 
"He attended the casualty department of the Hospital Universitario Quiron Dexeus having suffered a crash in training this morning," said Dr. Mir. "The patient presented a deformity to the little finger of his left hand and a subsequent X-Ray showed a fracture of the proximal phalanx, with displacement.
"Therefore, we decided to treat the injury -as we would in the case of any other patient- by fixing a titanium plate to his finger. This will allow us to initiate functional recovery after 24 hours and give him a chance of racing at Jerez."
Marquez hasn't enjoyed quite the same start to his season as he did in 2014, winning only one of the opening three rounds. He is currently sat 30 points behind series leader Valentino Rossi after a crash in Argentina. With Dani Pedrosa having sat out the past two Grand Prix, this is awful news for HRC, who could potentially see both riders out injured for the first European round of the season. "His participation in the Spanish Grand Prix has not been ruled out" suggests the injury may stop Marquez from riding in Jerez. If that is the case, we can all assume Livio Suppo is on the phone to Casey Stoner. 
Photo via Honda Racing Coperation