Marquez heads to Qatar still under 100 percent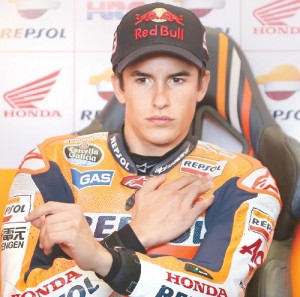 Reigning World Champion Marc Marquez will still be short of 100 percent as he heads to Qatar for the season opener this weekend.
Marquez broke his leg in a training crash just before the second Malaysian test last month, he was treated by Dr Mir in Barcelona, and has since undergone extensive rehabilitation in an effort to ensure he is fit ahead of the curtain raiser Sunday night. Marquez subsequently missed the remaining two pre-season tests in Sepang and Phillip Island and will now head to Losail slightly undercooked.
The World Champion explained in his Repsol blog that he still isn't 100% but is working hard to be fully fit as soon as possible.
"Yesterday morning I visited Doctor Mir to check that everything was progressing correctly," said the Spaniard. "After I few tests, we saw that everything was going as planned and in a few weeks, I will be fully fit again but we have to be patient and assume, obviously, that I'm still not one hundred percent.
"The wait has seemed long because I haven't been able to train as I would have liked, due to my injury. However, as I said, coming here and being able to see my team who I haven't seen for two months changes everything and it makes me feel happy.
"I have fantastic memories from last year but this year, the circumstances are different. So we have to be cautious and work calmly.
"Everything is a little different; the routine here is the opposite: rest well in the morning and start working in the afternoon. It's a bit strange but we have to make the effort to adapt from today so that when the weekend comes we are used to it. For that reason we travelled yesterday, Monday, in order to have enough time."
Last year on his Qatar MotoGP debut Marquez finished third position behind the Yamaha duo of Jorge Lorenzo and Valentino Rossi.