Finland preparing for MotoGP in 2017?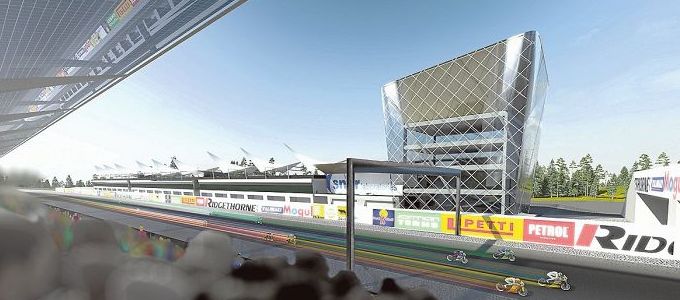 Could Aki Ajo's hunt to take over MotoGP take another step forward, with speculation that Ajo's home country of Finland could host a MotoGP World Championship round in 2017.
The round would take place at the brand new, state-of-the-art Kymi Ring. The Kymi ring (not to be confused with F1 driver Kimi) is located in the Kouvola region of the country, and is located 150km North-East of the capital city of Helsinki. 
Despite the country being more synonymous with four-wheel racing, the circuit is being built with an idea of bringing MotoGP specifically to the country. The circuit officials say that it is feasible the the Kymi ring could eventually host Formula One racing in the future, but the huge hosting fees, mean they are much more focused on hosting MotoGP.  
Finland has become a more prominent country to the sport of MotoGP in recent years, with the likes of Niki Ajo and Mika Kallio both full time riders, but Aki Ajo is probably the most recognisable and powerful Finn in the paddock. Ajo, who runs the Red Bull KTM and Ajo motorsport Moto3 and Moto2 teams respectively, as well as being personal manager to many riders including MotoGP rookie Maverick Viñales and Jack Miller.
Finland has previously been hosted motorcycle Grand Prix, with the event originally held in Tampere in 1962 and 1963, before moving to Imatra until 1982. It has however been over thirty years since the last Finnish motorcycle Grand Prix.
"The track will certainly be approved for Formula 1, but a grand prix has never been in the plans," Kari O. Sohlberg, Finland's national governing body for motorsport, told Omnicourse.it.
"An F1 race is not a realistic goal, because the amount of money required every year is so great that it would not be possible to pay for the rights. This kind of money cannot be found today in Finland. Instead, MotoGP and Superbikes, and series such as GP2, GP3 and DTM fit perfectly with our plans."
The Kymi Ring won't be the only new venue hoping to capitalise on the MotoGP "expansion" plan in 2017. The calendar is expected to grow to 20 races, and there is expected to be competition from Thailand, Chile, Brazil as well as Austria, who look set to join the calendar next season.