Marquez believes he and Rossi share the same philosophy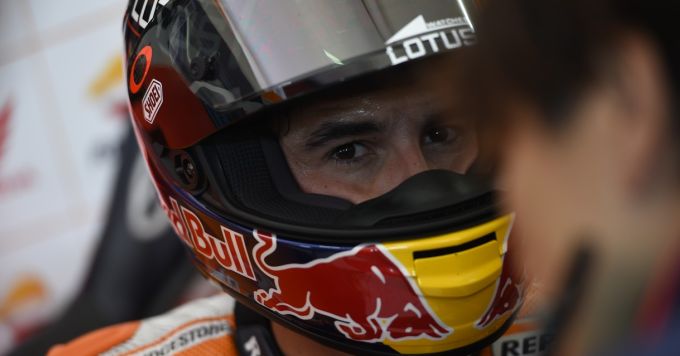 Marc Marquez arrives for his first home round of the season at Jerez with his back against the wall. A broken little finger, and a 30 point deficit to Valentino Rossi means Marquez will be hoping his home crowd can spur him onto closing the gap.
If the first three rounds of the season are anything to go by, we could be set for one of the great MotoGP battles. The veteran Italian, and the young champion. Both riders are obsessed with winning the title this season, and cementing their legacy. They are 12 years apart, yet Marquez believes the pair of them share exactly the same philosophy.
"Valentino and me have a similar mentality," Marquez said during an interview with The Guardian. "When you have a fight you enjoy the race. One of the most beautiful things on the bike is the overtaking and we both like that – and winning.
"That's why this season is very interesting because Valentino [on a Yamaha] is at a good level and I will come back strong [on his previously dominant Repsol Honda]. The Ducatis are also there."
Last time out, the incident between the two of them saw Marquez end up on the floor, whilst Rossi rode off to claim his second win of the season. In spite of this, Marquez insisted he isn't going to change the way he rides or the mindset that he races with.
"My mentality is always to win. I never think, 'OK I might want to finish second.' But I can improve and maybe in the race I can adjust better," he said.
Marquez put the clash down as a racing incident, hoping his relationship with his former idol doesn't turn sour when the two become embroiled in a title battle. "Of course if we're fighting for the championship at the end then the relationship can have more tension. But last year I went to visit Valentino on his ranch. It's good between us."
Despite being 30 points behind the Italian, Marquez isn't worried about the pressure just yet. As a double world champion, there is always pressure, regardless of how many points away from leading the championship you are. 
"In one way I feel less pressure," said Marquez. "I am 30 points behind so now the only thing I can do is improve and win. It's the same if you are 30 or 80 points behind. You just have to win.
"I will believe that until the points say it is impossible. But Valentino will be very determined. He knows this could be his last chance. I will fight with him right to the end."
Photo via Honda Racing Coperation