MotoGP to return to Austria in 2015?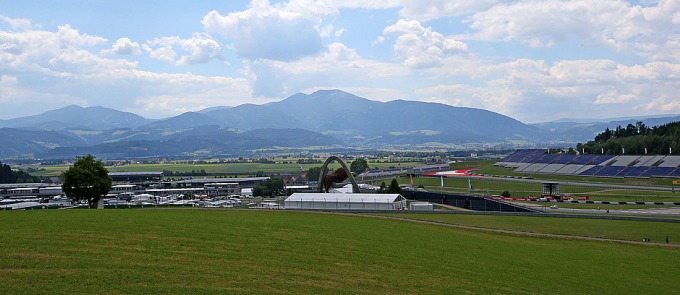 After an eighteen year absence, could MotoGP be set for a return to Austria in 2015? 
Well reports in Germany, from MotorsportMagazin.com, say that MotoGP will be making the return to Austria next season, with a reliable source stating that they will officially announce the decision at the end of this week. 
The circuit in question is the Red Bull Ring in Spielberg, and after hosting Grand Prix racing from 1971, in 1994, it all got too much for the Austrian circuit. The fast circuit was popular with fans and riders alike, but unfortunately it couldn't keep up with the safety demands and we haven't returned since.
Whilst the report doesn't specify who the source is, and whether it would be a Spanish round that would be dropped to make room, or whether it would replace the Brno round, it would be refreshing to see.
However, other reports suggest that a deal is not only a long way off, but will not happen due to the circuit not receiving its FIM homologation.
Another German website, this time speedweek.com, say that we won't be going to the Red Bull Ring in 2015, or to Austria at all. 
Speedweek suggest that reports have come from due to Javier Alonso, the Dorna Event Manager, visiting the circuit in 2013 for the World Superbike series. He was looking for a race for the WSBK paddock to visit after the Nürburgring and Brno were taken off were taken off the calendar. 
The biggest concern over the track now, is understood to be the size of the curbs. The circuit underwent a huge revamp after Red Bull bought the circuit, and added new grandstands, corporate boxes and a huge media centre for the return of Formula One racing there. As seen with Catalunya, the size of Formula One curbs and the size of motorcycle curbs are very different. 
As well as the track not having Grade A homologation, there is also the problem with race numbers. Dorna are understood to only want to have 18 races in a MotoGP season. With Brazil expected to be added to the calendar for 2015, it would mean another circuit would have to be dropped for any chance of racing to return. 
Safety Officer Frano Uncini has said he hasn't been to the circuit in a while, and says that it definitely wouldn't get the Grade A status required to host MotoGP. 
"At the moment I have no information, at all, about the possibility of a MotoGP race at the Red Bull Ring," said Uncini speaking to speedweek. 
"I have not been back there for ages. The track definitely has no Grade A homologation." With the man responsible for handing out the homologation not having been there for a while, it would suggest that maybe a deal isn't as imminent as initially reported. 
There has also been word from the top that there isn't a return in the imminent future. Dorna CEO Carmelo Ezpeleta categorically declared that there is no deal in place for MotoGP to return to Austria in 2015. "At the moment there are no plans for an Austria GP in 2015," he said.
It isn't just Dorna saying that the event won't happen either. Red Bull boss Dietrich Mateschitz also denied the suggestion that there is a deal in place for an Austrian Grand Prix next season. "No. There will be no MotoGP race in Spielberg next year," he confirmed to speedweek. 
So, to go back to the original question, is MotoGP on the verge of a return to Austria? Well we still don't know, but with the categorical denials from high profile personal with both Dorna and the circuit, it looks unlikely that we will see a return, next season anyway.