Dovi lights up Qatar on the second evening in Losail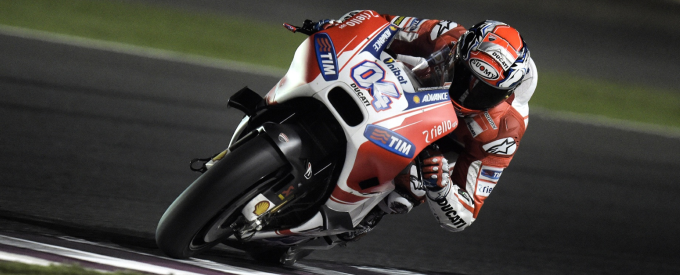 Factory Ducati rider Andrea Dovizioso continued Ducati's dominant display in the final MotoGP pre-season test under the floodlights in Losail. 
Dovizioso was once again testing the brand new Ducati GP15, and as track conditions improved from last nights testing, so did the lap times. Marc Marquez quickly moved faster than the fastest lap time set last night by Dovizioso's Ducati team mate, Andrea Iannone, but it wasn't enough to stop Ducati ending the second day fastest, with Dovizioso smashing Casey Stoner's outright circuit record, with an overall best lap time of a 1'54.907.
The GP15 tonight had the added pieces "winglets" on the fairings. It's not the first time that a Desmosedici has found "winglets" added to them, with them first spotted back in 2010 when Casey Stoner and Ducati were hoping it would be able to keep the front end of the bike down, as a method of wheelie prevention. 
Much like last night, neither Andrea Dovizioso, nor Iannone did any work on the soft Bridgestone rubber available to them, with their fastest laps done on medium tyres available to any rider on the grid. As well as using race tyres to do his fastest time, Dovi also completed his fastest lap using the "winglets" on the fairings.
"I am very pleased with my time today: we worked really well and always used the hard tyre, just like yesterday," said Dovizioso.
"I am also happy from the point of view of our speed because we are able to be very competitive both with used tyres and with new ones.
"We still have to improve certain aspects, like stability under braking, and in the first part of acceleration the bike still moves a bit too much, but as for our lap speed we are at a good point. Now we're working on fine-tuning and on race distance, because on this track the drop in tyre performance is very significant."
Photo credit via Ducati Course