Marc Marquez expecting tough season opener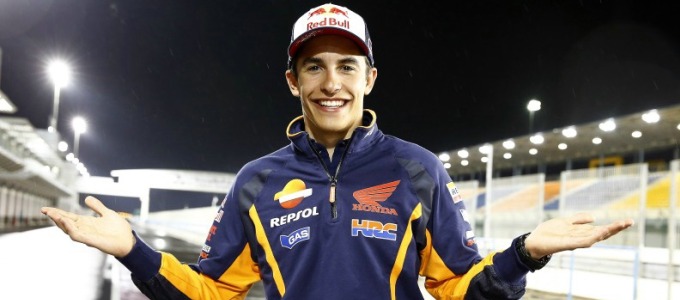 Reigning MotoGP World Champion Marc Marquez has said he is expecting a tough, close season opener in Qatar is this weekend's testing results are anything to go by.
The final day of the final MotoGP pre-season test was rained off Monday night in Qatar, leaving many riders frustrated they couldn't complete their three day testing schedule ahead of next weeks season opener in the same location. Riders aren't permitted to ride in the rain under the floodlights at the Losail International Circuit, due to safety concerns over the reflection of the lights off the wet tarmac.
Qatar, which on average only gets three inches of rain a year, must've got their rain for the decade on Monday night meant Andrea Dovizioso and Ducati ended the final test fastest, ahead of Marquez himself, with the top 14 riders separated by just 0.903 seconds, with fifth place Valentino Rossi only 0.229 seconds ahead of fourteenth place Maverick Viñales by the end of the test.
"It's a shame this last day was cancelled due to the rain but I'm happy with how we are going into the first race," Marquez said after the final day of testing got cancelled.
"In time we will see how we do at different circuits, but we can make a positive assessment of our progress this winter.
"I can't wait to start the season here in Qatar in just a week and a half's time. It will be interesting because having this test so close to the race will make everything tighter.
"As you can see from the time-sheets from the past two days here, the differences will be very small."
After insisting that Yamaha were the main challengers to his crown, he did comment on the pace of Andrea Dovizioso and the Ducati's after the news came out on the second day that Ducati hadn't touched the soft tyres at all over the two-days the test ran.
"I believe they're not using the extra-soft tyre to avoid creating a scare, because their lap-times would quickly drop by one second!"
The paddock will be back in Qatar next week, with the first practice session of 2015 commencing Thursday evening.
Photo via Repsol Honda