Marquez: Ducati? We're only looking at Yamaha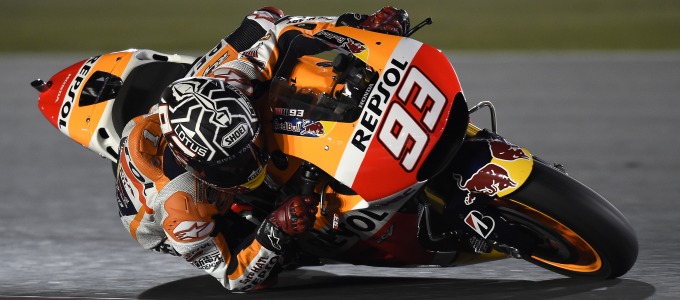 Reigning World Champion Marc Marquez has said he isn't worried about the pace of the Ducati, insisting he is only looking at the challenge of Yamaha. 
Marquez ended the first night of the final MotoGP pre-season test in third position, behind both factory Ducati riders, with a lap time of a 1'55.554, less than two tenths of a second behind Andrea Iannone's fastest time of the evening. With track conditions less than optimal, Marquez rode with a degree of caution, as to not injure himself with two more days of testing ahead, of with the season starting in less than a fortnights time.
The real story of the first evening was the pace of Ducati, ending the session in first and second respectively. Despite Ducati's pace, Marquez insists that he is only concerned about looking at the Yamaha's of Jorge Lorenzo and Valentino Rossi who were sixth and eighth respectively. 
"Certainly at Ducati they are working well. The bike has improved a lot and they are fast even with the hard tyres. But I have my eyes fixed mainly on the Yamaha. Rossi and Lorenzo are my top rival," Marquez explained after the first evening of testing to GPone.com.
"That said, it will be interesting to see when the Desmosedici will be competitive in a race. The extra litres of gas they get, will make them comfortable here, because this is one of the most difficult on consumption. For now, they are very strong over one lap, but the GP is another thing."
When he was asked about his first day of testing, Marquez explained he rode within himself due to the conditions and situation of the day.
"It's just the first day, and on this track we must be careful, because the track in never clean. Though, all in all, today shows you can be fast. I focused mainly on trying brakes and a new clutch, but tomorrow we will work on setup. All in all, the RC213V satisfies me.
"I found it more precise and fast. Today I also had the opportunity to test a new fairing, to seek improvement at top speed."
Marquez will be back in action tonight, with a day of track sweeping complete, expect times to come down as riders and work on set up ahead of the opening round of the season. 
Photo credit Repsol Honda