Davide Brivio: First priority is beating Open Class bikes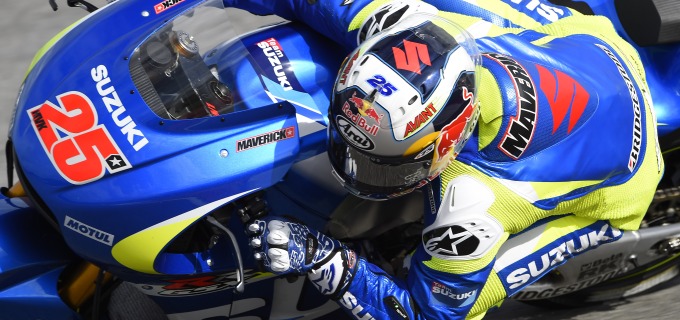 Manager of the returning Suzuki MotoGP team, Davide Brivio has revealed his, and Suzuki's first target of 2015. To beat the Open Class bikes, and catch up with Ducati. 
The Suzuki team are returning to the MotoGP paddock after a three-year hiatus with a brand new machine for 2015. Leaving the sport due to a lack of success and not gaining anything from a company point of view, Suzuki have returned with a new inline engine, and after underwhelming lap times in the hands of test riders Randy De Puniet and Nobuatsu Aoki, Aleix Espargaro surprised the paddock, ending the second Sepang test in ninth position. 
Suzuki's preparations for 2015 have been so thorough, they postponed their comeback from the inital 2014 target, to ensure sufficient testing was done, and to make sure the bike wasn't going to just make up numbers on the grid. 
2015 was always going to be a period of adjustment and data gathering ahead of the switch to Michelin tyres and base electronics in 2016. Nobody is predicting, nor expecting Suzuki to be challenging the likes of Honda or Yamaha in 2015, least of all Suzuki. But they have set themselves a target of beating the open class bikes.
As a newcomer, despite being a factory entry, Suzuki will get the benefits of a soft tyre, 24 litres of fuel, rather than the usual 20 and 12 engines as opposed to the factory's 5. The benefits that Suzuki will recieve are much like the benefits open class bikes get. On, in theory, a level playing field with the likes of Forward Yamaha's Stefan Bradl, or LCR Honda's Jack Miller, Suzuki are expecting to be ahead of these, as a bare minimum. 
"Our ultimate goal, of course, one day is to fight for the top positions," Suzuki Team Manager Davide Brivio told speedweek.com.
"We will work hard to get closer to the top, step by step. We are now experiencing, how much trouble Ducati had trying to push forward again. This shows how difficult the game is.
"But we had to start somewhere, and now we have to raise it. A logical thing, is that we strive to perform better than the open class bikes. Then, we would approach the next step, which is getting closer to Ducati. This is the task that lies before us.
"We know how important it is to develop constantly, during the season in this championship. Honda got off to 2014 strongly. Yamaha and Ducati, however, have subsequently caught up considerably. We must imitate this concept."
Photo via www.suzuki-racing.com