Quartararo ready to deal with expectation in rookie year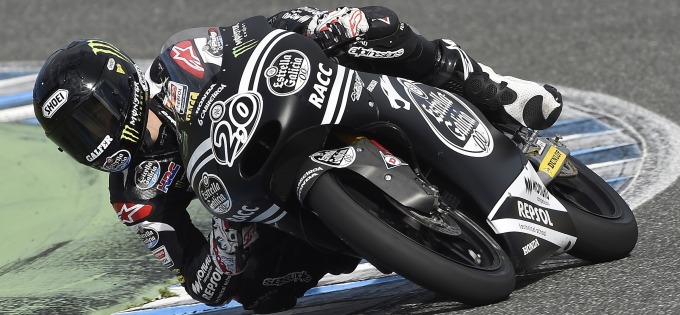 French Moto3 starlet Fabio Quartararo has said he is ready to deal with the expectation that will come his way during the 2015 season. 
Quartararo, will be participating in his first season in the World Championship as part of the Estrella Galica 0,0 team, who have recently signed a deal to work with the Marc VDS team, in a bid to help promote riders from CEV right through to MotoGP. 
Fabio Quartararo, comes into Moto3, on the back of two CEV Buckler titles. The Spanish CEV series has been seen as the prelude to Moto3 for the past few seasons, and back to back titles stands the Frenchman in good stead. Quartararo was initially expected to miss the opening two rounds of the season, as he is only 15, below the age limit imposed by the FIM for world championship racing. The rule was changed, and as a defending champion, Quartararo is allowed to start the season as a 15-year-old.
Many fans had heard of the Frenchman from his time in Spain, where he now resides, but those who didn't certainly have, after he finished top of the timing sheets for both the opening two Moto3 tests in Valencia and Jerez, respectively.
Despite moving into Moto3, the team, and set up will remain largely the same for Quartararo, something which is important, and he feels will help him.  
"It's an honour to be part of the Estrella Galicia 0,0 team," Quartararo explained during the launch of his 2015 bike.
"Last season in the Spanish Championship I was in them in the Junior Team Estrella Galicia 0,0 and we were champions. Therefore, it is nice to stay with Estrella Galicia 0,0 and the Monlau Repsol Technical School."
The Monlau Technical School that he refers to is the latest, and best rider school in Spain. Run by Emilio Alzamora, the Monlau school can boast graduates such as reigning MotoGP World Champion Marc Marquez.
"I have no pressure, I'm here to learn. There is no comparison with Marquez. It's flattering but I still have everything to learn," he insists. His team manager Alzamora was also keen to remove any potential comparisons between Marquez and he. "We can not compare Marquez and Quartararo," Alzamora explained. "Yes, he made a good start to winter testing, but he knew the circuits of by heart. He needs to keep feet on the ground!"
As Alzamora explained, the two circuits that the Moto3 riders have tested on are circuits that Quartararo has raced at before. He has in fact raced at five of the 18 circuits on the calendar, but he will also have to learn and grow as the season progresses.
"[Moving to Moto3] will help me to grow as a rider. In the tests, we achieved very good results," the teenager explain.
"I fell in Valencia and Jerez, but felt very comfortable. I got on with the bike really well, and it felt really good. We could be so strong. This year my goal is to get to know the new circuits and to have a season of fun. Nevertheless, I would like to get good results in the Grands Prix in Spain and especially in France."
#Moto3 Madrid,conference de presse de @FabioQ20 Quartararo. A suivre tres bientot dans @stade2 @francetvsport pic.twitter.com/gnH6hp5Ex5

— gael robic (@gael_robic) March 5, 2015

Photo via MotoGP.com