Rossi expecting tough challenge in hurt for 10th world title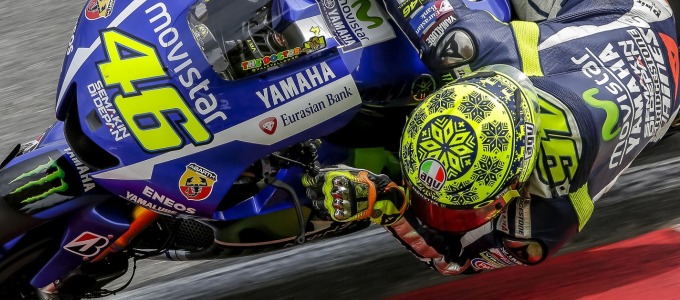 Nine-times World Champion Valentino Rossi has admitted, it will be very difficult to claim a potential tenth world title, mainly due to the strength of his rivals.
Rossi, who hasn't won a MotoGP World title since 2009, seemed to be back to close to his best as he went on to claim his highest finish in a season, last season, as he went on to finish only second to double World Champion Marc Marquez. 
The Doctor, along with team-mate Jorge Lorenzo and Dani Pedrosa were incapable of stopping Marc Marquez winning the first ten races of last season, as he went on to win his fourth world title, by a whopping 67 points. 
If he, or anybody is to dethrone Marquez this season, the Italian knows that they need to try and put Marquez under pressure from the off, and not allow him to run away from the off like he did in 2014.
"With Jorge [Lorenzo] and Dani [Pedrosa], we will have to do our best to put [Marc] Marquez under pressure," the 35-year-old said, speaking at the 2015 launch of his Sky VR46 team. "We have to avoid what happened last year, when he [Marquez] won the first 10 races."
Despite Marquez being the obvious threat, Rossi knows that he will also face challenges from other rivals, namely Lorenzo who had a season to forget last year. 
"Jorge trained a lot this winter and he is ready to fight. Dani changed some members of his team and he is very motivated," he explained.
But in spite of what his rival's are doing, Rossi is confident in what he is capable of doing, and excited to pursue his eighth MotoGP crown.
"I'm very excited and optimistic. In the last Sepang tests, the M1 has improved and also the new seamless gearbox worked well. Honda has also improved, and the situation is similar to the second part of the 2014 season, when Marc – who continues to be the favourite contender for the title – won the last two races but we fought hard until the checkered flag.
"It will be an exciting season, and we will see more battles on track. Ducati has made an important step forward in the race pace, and they can count on the soft tire for a single lap." 
Photo via Movistar Yamaha