Jorge Lorenzo questions Rossi's "new strategy"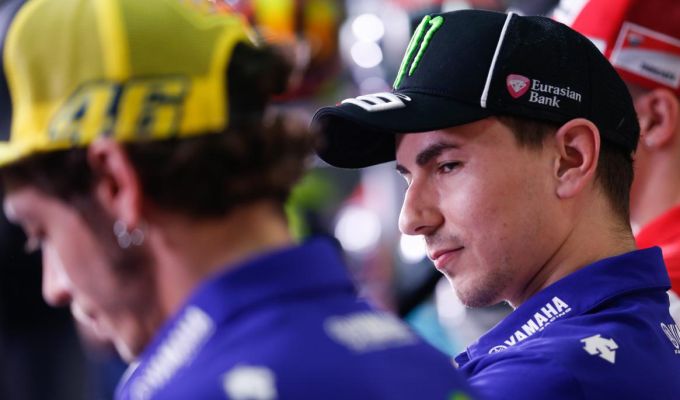 World Championship challenger Jorge Lorenzo has questioned his team-mates "new strategy" of going after Marc Marquez on the eve of the penultimate Grand Prix of the season in Malaysia. 
During Thursday afternoon's pre-event press conference, Rossi launched a staggering attack on Marc Marquez' race strategy from Phillip Island, stating that he believed the World Champion was hindering his race, in order to aid Lorenzo's title chances. 
After today's first practice day, which saw Lorenzo top the timing sheets, he was asked his opinions on what transpired Thursday afternoon. The Spaniard questioned Rossi's tactics of attacking Marquez, especially after Rossi had spent many years doing the exact thing he accused Marquez of doing. Lorenzo said that as he spent most of the race ahead of the battle, he couldn't really comment on whether Marquez was indeed doing this.
When asked if he felt Marquez was trying to help him win a third MotoGP World Championship, Lorenzo simply replied: "No." He went on to say; "because mainly I was in front maybe 80 percent of the race. I was leading the race so more or less I didn't know what happened on the back.
"Secondly I really believe he was not helping me during the race. If he was he would let me win the race and give me these five points and give me the opportunity to depend on myself. But you have to ask Marquez what was his strategy. I think he responded yesterday what he thought.
"Anyway I don't think it's a good strategy from Valentino because the accusation is exactly the same as in the past he did when he was winning the world title with his rivals. With Biaggi, Gibernau, Ukawa. He was a little bit playing around during the race and then on the final lap he push and win the race. So it's a little bit strange that he speaks like that after what is his past."
Many in the paddock have been left thinking that this could be the first time we have seen the Doctor become a victim of his own nerves, with the pressure of delivering the much sought-after tenth World Championship finally getting to him. Lorenzo said that he thinks that Rossi is starting to worry, as he knows the Honda's and himself are quicker than him, meaning it's essentially out of Rossi's hands. 
"I said before in Spanish if he was fast enough to win these two races he would not say these kind of things because he would win the championship by more than eleven points," he said. "But maybe he's afraid to get the championship a little bit more complicated because it's not enough to fight mostly with Marc, me or Dani at these tracks. I think it's a strategy, no?
"I think I have responded before. If he was the fastest one he would not speak about these kind of things. I think this time it was not the right strategy to be honest."
Photo via Movistar Yamaha