Viñales: I want to be MotoGP World Champion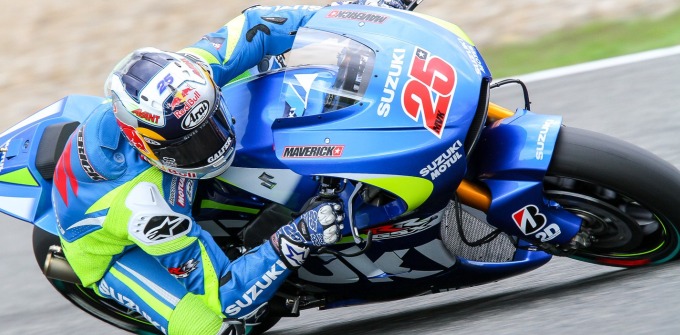 2015 MotoGP rookie Maverick Viñales has admitted his ultimate goal is to one day become MotoGP World Champion. 
The 20-year-old makes the move to MotoGP after just a sole season in the intermediate category, and he makes the leap as a full factory rider with the returning Suzuki team. 
Viñales, who won his second race in the Moto2 class in a dominating fashion in Austin, and went on to win a further three victories in Aragon, Malaysia and Australia. His performances impressed enough people to earn him a ride alongside Aleix Espargaro as a factory Suzuki rider, and the rookie admitted there's nothing better than the feeling of winning.
"I just love the feeling of victory," admitted Viñales, whilst speaking to the official MotoGP website. "It is an indescribable experience, if you're the first to the finish line. I'm also fascinated by the concentration and speed required."
Viñales went on to talk about when he first started riding a motorbike, and explained how was riding bikes for a couple of years before he actually started racing.
"I started with 3 years to cruise around on motorcycles," he said. "Then at five, I went to my first motocross race. Even today, I relax and ride motocross to train."
He continued, "when I am training, I love to do anything with a motor. I ride my bike, run, swim and go to the gym too as my strength training. When I am at home, I like to ride motocross as training."
When asked the greatest moment of his career, Viñales also revealed that the greatest moment of his career to date was definitely the day in which he won, his first, and only to date, world title. 
"The best ever moment was in Valencia, in 2013, I won my first title there. That was very special. Of course 2014 was also an incredible year, because I won three of the last five races. But the best moment was the title."
He also revealed his biggest dream, and it will come as a shock to absolutely nobody. 
"My dream, is to become the MotoGP World Champion."
Photo credit via MotoGP.com