GP15 not expected to debut until Sepang 2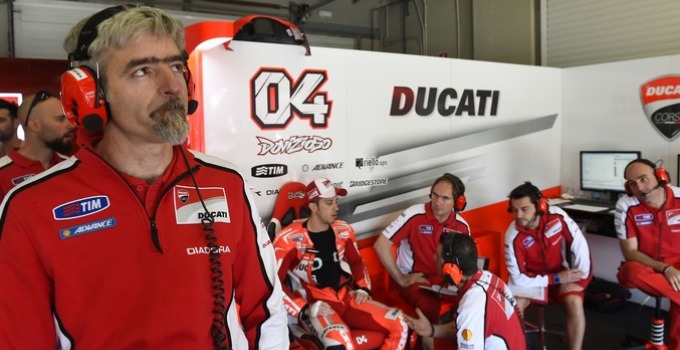 The new Ducati Desmosedici GP15 isn't expected to make it's debut until the second Sepang test at the end of February.
The GP15, the first Ducati fully designed by Gigi Dall'Igna, had been hoped to be ready for the first of the Sepang tests on the 4th February, but, GPone.com are now reporting that the GP15 won't be ready until the second test which begins on the 23rd of February.
The delay shouldn't come as a surprise, as the new bike isn't an evolution of an old bike, but it is instead a completely new machine, with the chassis being totally changed, Dall'Igna did warn of delays on multiple occasions last year, stating that he would rather have a delayed bike in testing, than a rushed bike, causing the project to be restarted, again.
The factory in Bologna didn't even stop over the Christmas holidays, but in Borgo Panigale they are taking a cautious approach to things for Dovizioso and Iannone's new bike.
Despite no official word from Ducati regarding the delay, but in todays Corriere dello Sport, Dall'Igna did suggest that the bike wouldn't be ready.
"There's no development time that can be shortened. Accelerating [the process] would mean taking risks, so going slower, gives us more guarantees," he said.
Whilst seemingly like a logical decision, the move will leave Ducati with three fewer days of testing for their new bike, with a prototype bike being used during the first test. Although, this disadvantage will be negated with the Open class allowances, allowing extra testing.
Despite not bringing the bike until the second test, Dall'Igna is hoping that 2015 will see Ducati claim their first victory in MotoGP since Casey Stoner won in 2010.
"We shouldn't win the Championship this year, but we want to win races. We have to bring home a victory," he explained. Whilst easy to say, Dall'Igna knows it will be a lot hard to achieve.
"I don't know if the Honda is the favourite," he says. "From the middle of 2014 onwards, in fact, the Yamaha has progressed a lot, so that today I can't say who, between the two, is the strongest."
Photo credit: MotoGP.com