Alex Marquez not anticipating 2015 Moto2 title challenge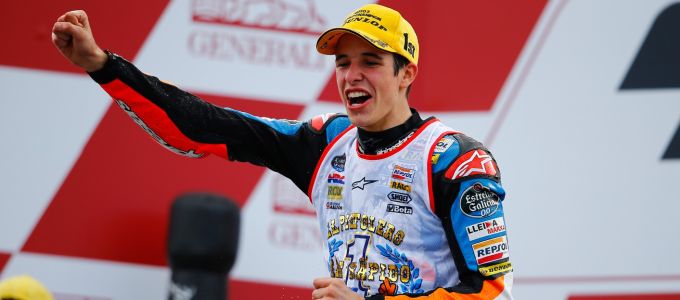 2014 Moto3 World Champion Alex Marquez has said he isn't going into the 2015 Moto2 World Championship expecting to challenge teammate Tito Rabat.
Alex Marquez heads into the Moto2 class with high expectations. After all he is younger brother of Marc Marquez, and he is a reigning World Champion. With 10 podiums last season, including three wins, he and his elder brother made history as the first brothers to win motorcycle grand prix World titles in the same year. 
His reward, as well as a ride on Marc's RC213V, was a two year contract with the Marc VDS Moto2 team alongside close friend Tito Rabat aboard a championship winning bike. Despite the ride he has earned, he is not planning on having the pace to match Rabat next season.
"It will not be easy to achieve Tito level," Marquez told Marca.com. "He won the title and he's in his fifth season in this category. I just have to wait and see what happens."
Whilst Marc won the MotoGP title at his first time of asking, it took him a whole season before he could claim the crown. Alex appreciates he has a two year contract, and he is willing to do the hard work of learning in 2015, ready to launch an assault in 2016.
"I just want to learn," he said. "I'll have all the support from race to race, without the pressure. I'll just have fun, and prepare for 2016. I won't to rule anything out, but I'm thinking of the title."
"Of course I want to be the Moto2 World Champion. It's my dream. But if I can win races, and be on the podium, in 2015, it will be a good year. I have to get used to a new chassis and other tyres. So, I must go step by step, but also learn as quickly as possible," explained the 18-year-old.
In the interview with Marca, Marquez also spoke about his winter so far. He said that he was allowed a few treats over Christmas in an effort to bulk him up a bit, as he steps up from the 250cc Moto3 machine up to the much more physical 600cc's of Moto2.
"I was even allowed to eat marzipan," he said. "Because I am very thin, I also have to build two or three pounds of muscle."
Photo Credit: MotoGP.com