Rafael Nadal heaps the praise on Marc Marquez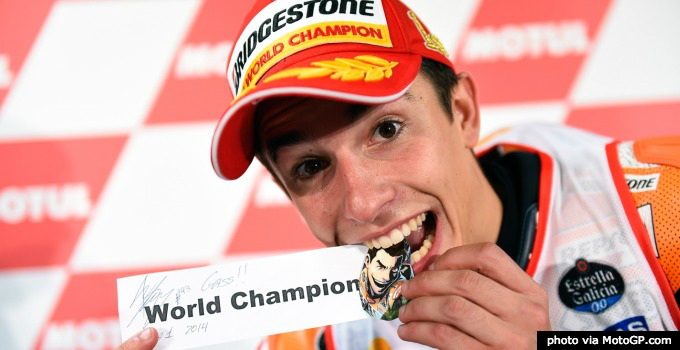 Spanish and World tennis star, Rafael Nadal, has revealed he is a huge Marc Marquez fan, saying the 21-year-old excites him and he has the upmost admiration for his compatriot.
Nadal was speaking to famed Spanish journalist, Ernest Riveras for Movistar TV, and the 14-time Grand Slam winner said that what Marc has achieved already, in such a short space of time is nothing short of amazing.
"What Marc Marquez did is amazing," the  28-year-old Spaniard told Riveras. "In his first year he won, and in his second he broke all records, which excited me. I have a lot of admiration for him."
As a fellow professional athlete, Nadal noted the raw talent Marquez posses, but knows that without the years of work already behind him, he wouldn't be where he is today. 
"Marc, in addition to being an immense talent, is a calm and has a peace of mind, that allows him to run and take risks without fear, knowing that he can win in every race. Mentally, this is a big advantage," added Nadal.
It was not only Marquez who Nadal spoke about. He spoke about another product of the Balearic Islands, in the shape of former World Champion Jorge Lorenzo. Despite Lorenzo's disappointing and challenging 2014, Nadal said that the two-time MotoGP World Champion has nothing to prove to anybody.
"He doesn't need to prove anything, to anyone. He's a champion. He had a difficult year, especially at the beginning, and he met an unstoppable Marquez. He will overcome this year and give even more, he'll keep fighting for race wins and titles."
Nadal also spoke about Valentino Rossi. The Italian enjoyed a comeback season in 2014, and Nadal compared him to one of his great rivals, Rodger Federer, saying, age doesn't matter if you still enjoy what you're doing and still feel fit and healthy. 
"He's a myth in the world of sports, and particularly motorcycle racing," Nadal said about the nine-times World Champion. "Despite his age he has proven he is still physically fit. The important thing, is above all, to enjoy what you do and do what you dreamed of when you were a child. I think he still has fun and can fight for the top positions. 
"As with Roger, they have not lost the taste and enjoyment of competing and fighting for top spots, despite the both of them being a bit older. If you're okay physically, then Rossi has nothing to fear, from anyone."