Marquez brothers lap on Repsol Honda's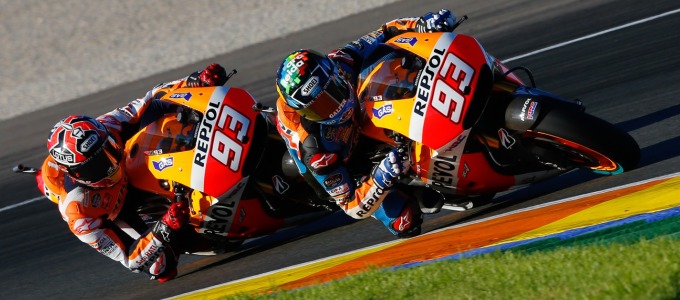 Alex Marquez joined his older brother and MotoGP World Champion Marc Marquez in action during the first day of post season testing in Valencia. 
Marquez the junior was rewarded by HRC for winning Honda's maiden Moto3 title with a ride aboard his elder brothers Honda RC213V. 
Marc was initially given the day off by HRC, however, he joined Alex on track in the afternoon, in what must've been an immensely proud moment for the entire Marquez family. Marc helped Alex in the box ahead of the laps, and was also spoken to by HRC vice-president Shuhei Nakamoto with whom Alex made the deal to ride the bike with.
The duo were out there for twelve laps riding together, in what must've felt like parade laps for Marc, as it was five seconds off the pace. Taking turns together at the front, and the duo of World Champions were briefly joined by nine times World Champion Valentino Rossi for a couple of laps.
"I am very happy to have tried the MotoGP bike. Yesterday I fulfilled a dream that I had, and today I fulfilled another. It's not every day you can try a bike like this," the 18-year old said after the testing laps.
"I want to thank Honda and especially Shuhei Nakamoto for this opportunity that they have given me. It is a great gift after becoming Moto3 World Champion.
"What impressed me the most was the power that the bike has. The feeling you get when you're on the straight is incredible and braking is amazing too, plus the time between corners is greatly reduced. At first I was a little stiff on the bike, but I think I held up well. It was a lot of fun and I ended up a little tired!" 
Marc also said it was a memorable experience for him, but also joked by saying that was tough staying behind Alex who was going wide.
"Coming from Moto3 and completing some laps on a MotoGP bike is difficult and he surprised us with how well he adapted. Alex enjoyed this experience; we'll see if in the future we can repeat it!," added Marc.
"It was a wonderful experience riding with Alex and following him around the track!
"Sometimes it got a bit too much for him to take in, which is normal because it was his first laps on a MotoGP bike.
"I really enjoyed myself, but also had a bit of trouble going behind him because sometimes he went a little wide. Overall, he did very well."
Alex will be testing his new Marc VDS Moto2 from Wednesday in Jerez, whilst Marc will be back to the important stuff from tomorrow.