Marc Marquez is moving to Andorra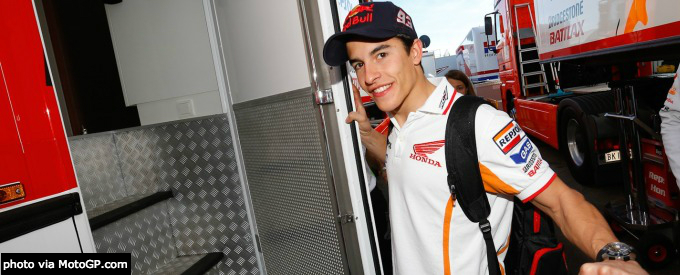 MotoGP World Champion is finally moving out, leaving Spain, and moving north to Andorra.
Marquez was widely known for living at home whilst becoming a four time Grand Prix World Champion, but the 21 year old is now ready to leave the comforts of home, and buy his first house.
Marquez has decided to live in Andorra, the Pyrenees principality, according to Diari d'Andorra. He has already requested residence and his request is expected to be granted by the government in the coming weeks. When Marquez' request is granted, he, like all new residents, will have to pay an entrance fee of 50,000€ and a fixed tax of 30,000€ for his first three years of residence. Into the fourth taxes are limited to just 10% of his declared income. 
The source say that fiscal reasons are behind Marquez' move, and he has elected to move to Andorra due to the tax advantages which he would benefit from, whilst still remaining close to Spain, and only a couple of hours, and 120 miles away from his hometown of Cervera.
In order for Marquez to enjoy the fiscal benefits of the tax favourable country, Marquez has to prove he has spent a minimum of 183 calendar days in Andorra to qualify as an official resident. In 2009, tennis player Arantxa Sanchez Vicario was forced to pay tax authorities 3.5 million euros after it was came out she was living in Barcelona, despite being registered as a Andorran resident to avoid paying tax. 
If he were to remain in Catalunya, Marquez would be taxed 49% of his income. His recent two year contact renewal with HRC was worth an estimated 10 million euros, as well as further endorsements, and prize money, it's clear to see why Marquez wants to move to the tax favourable principality. 
When news of the move broke, many fans of Marquez took objection to the move. So much so that his twitter followers fell from 1.3 million to 1.26 million at the time of writing. With some willing to denounce him as a Spaniard, and labelling him a traitor. With a reaction like this, you would think he is the first Spanish rider, or celebrity to move out of Spain, but this is not the case.
Marquez' team mate Dani Pedrosa lives in Switzerland, along with cycling star Alberto Contador. Double Formula One World Champion Fernando Alonso also had a stint living in the Alps. Whilst the Espargaro brothers and Jorge Lorenzo both live, or have had spells living in Andorra already.
Whilst the sources say there is no word as to whether Moto3 World Champion and Marc's younger brother Alex Marquez will join Marc in Andorra, Marc has admitted to wanting to share a house with his brother in the future.