Yamaha and Ducati block Marquez' Qatar test request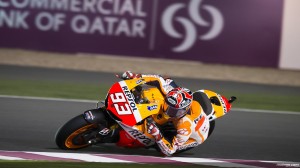 Yamaha and Honda have challenged Race Directions decision to allow Marc Marquez to test in Qatar after being ruled out of the Phillip Island Bridgestone test at the beginning of March.
With Marquez breaking his leg, he is missing the second Sepang test, and the subsequent Australian test, Honda contacted IRTA and Race Direction, requesting permission for Marquez to join the non-factory riders in Qatar in the final pre-season test starting on March 7th.
With Marquez missing six days of testing, the Honda request has been granted by Race Direction.
However, both Yamaha and Ducati have appealed Race Directions decision to allow Marquez and Honda to test at Qatar, just two weeks before the Grand Prix paddock arrive in Qatar for the curtain raiser.
Along with Marquez collecting valuable, fresh data ahead of the first race in Qatar, the three factories had a gentleman's agreement that they would do the Phillip Island test, leaving the Qatar test to the non-factory teams.
Yamaha have now informed IRTA and to Race Direction that if they allow Marquez to partake in the Qatar test, then Jorge Lorenzo and Valentino Rossi will also take part in the test. Ducati, who may end up eventually being applicable for the test should a decision come soon on the open class dilemma, have no intentions to take part in Qatar, and will stick to the plan and agreement.
In fact Honda are doing nothing against the rules, and Yamaha would be. The rules say that teams can't test at both, and Yamaha's reaction seems rash and an effort to get Race Direction to reverse their decision.
There is a concern that if the decision doesn't get overturned then Yamaha may choose to skip the Phillip Island tyre test, and chose to join Marquez in Qatar, which wouldn't benefit Dorna at all.
The extra test at Phillip Island was added after the debacle last season when the new tarmac in Australia tore the tyres apart, meaning that the race was shortened and had to contain a pitstop. Marquez missed his pit-stop and was disqualified, and the test was introduced to help Bridgestone form a tyre to stop the same situation happening again. If Yamaha deem Qatar more important for them in the short term, then Dorna and Bridgestone would be the biggest victims.
Ducati, however will be going to Phillip Island, and in an interview with GPone, Ducati MotoGP Project Director, Paolo Ciabatti said they want to help the Championship and Bridgestone.
"We made a deal, accepting to put ourselves at disposal of the Championship. We proposed to participate, with our test riders, but Bridgestone asked for the official riders and we agreed, even at the cost of sacrifice the advantage of a test in Qatar ten days before the race."
Making it clear it was nothing personal against Marquez, they just want it all to remain fair.
"On the contrary, we want to see him back in shape soon, but we feel that the Qatar's solution would be incorrect. The Race Director has given his permission, probably without considering everything. They should at least have consulted all the parties involved.
"Unfortunately riders' accidents are part of the business and if a rider is forced to miss a test, as it happened many times in the past, he has to accept it. Furthermore it's a bit strange not being able to ride on Monday and doing it just three days later.
"Our position is going on as decided, as agreed: everyone at Phillip Island. If Marc cannot come, they will bring a test rider. We do not want loopholes being found when the need arises, otherwise from now on we will request a written agreement in any situation."
Honda Team Principal Livio Suppo has immediately defended his teams actions, maintaining Honda just want what's best for Marquez, rather than trying to bend the rules to help Honda.
"First of all our priority is to understand how Marc is recovering. Until we have the doctors' opinion we won't make any decisions. That said, I think there have been some over-reactions about the situation.
"We don't want go to Qatar to gain an advantage, but just to let Marc understand how he feels on the bike. It's not a private test. If it gives us so much of an advantage, why are fast riders such as Bautista and the Espargaro brothers allowed to do it?"
A decision by Race Direction is expected to be made any time, so stay tuned to make sure you stay right up to date with the whole situation.