Iannone to be given a third Factory Ducati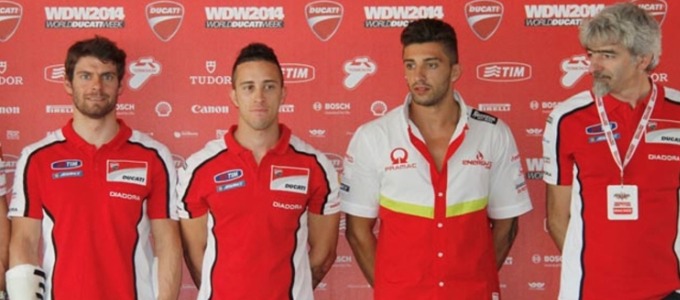 Andrea Iannone will be given a Factory Ducati despite the contract renewal of Andrea Dovizioso and Cal Crutchlow's decision to stay.
With speculation over which factory rider would make way for Iannone, his move up to the factory squad was surprisingly plunged into jeopardy by Saturday's announcement that both factory riders would be staying for 2015. However, reports from Italy are now suggesting that Ducati are willing to run a three man squad in 2015 to accommodate the young Italian.
"Nothing is impossible," Ducati MotoGP project director Paolo Ciabatti said to GPone.com when asked if a three-bike factory team was a possibility in 2015.
"We are talking about what is the best solution. This year Andrea is racing an official motorcycle at Pramac, we would like to continue in the same way and increase the technical support from Ducati." 
Indeed staying with Ducati is Iannone's first and only priority, despite apparently receiving a lucrative offer from Suzuki to move for 2015.
"My priority is to stay with Ducati, but I want the Ducati Marlboro factory bike. This is my priority," said the Italian who is currently eighth in the World Championship, and ahead of Factory rider Cal Crutchlow. Iannone's desire to stay with Ducati was only further reaffirmed this past weekend at WDW.
"Receiving such a warm welcome from the crowds makes me proud to be a Ducati rider and that's why I'd just love to continue racing with them all the way to the end of my career," said Iannone.  
If Ducati do get the go ahead from Phillip Morris for the third Ducati, it will be the second time in four years in MotoGP that a factory team will run with three factory machines after the Repsol Honda team did the same thing back in 2011 with Casey Stoner, Dani Pedrosa and Andrea Dovizioso. 
There will also be questions over the makeup of the remaining Ducati's should Iannone end up in red next season. As things currently stand, there would be three Marlboro sponsored factory machines, and one Pramac machine. 
There is also the addition of the Avintia team taking Ducati engines in 2015. With current IRTA rules saying that a team can only submit four machines in a 'class', the current four bikes on the grid will all have to officially become factory entires, leaving the Avintia team to run the open machines. 
The Spanish based Avintia team currently run Kawasaki bikes, but will take the GP14 for 2015, using the bikes that Cal Crutchlow and Andrea Dovizioso are using this year. There has been a suggestion that Pramac have been offered this option, and the team will assess both options before making a final decision. 
"The basis of the bikes for Avintia will be the latest spec machinery from the our official team after an evolution will arrive in Indianapolis or Brno. It is a good opportunity for Ducati and for Avintia," confirmed Paolo Ciabatti to MCN.
"As we have seen this year with Yonny Hernandez, he has still been able to do good things with the 2013 bike, so the 2014 version can go even better. And apart from the bikes in Avintia they will have two electronic engineersin the box to oversee thework on the Desmosedici."