Lorenzo: 'I can challenge Marquez in 2015'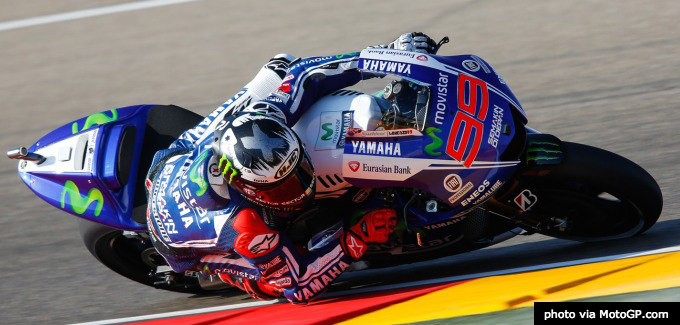 Two time MotoGP World Champion Jorge Lorenzo has insisted he will come back stronger in 2015, and is ready to take the fight to Marc Marquez in the hunt for the third World Championship.
Last year saw Jorge Lorenzo fail to finish in the top two of the MotoGP World Championship for the first time since his rookie season in 2008 when he finished fourth. Lorenzo's 2014 was torture right from the first test of the season, which saw him and his M1 struggle with the new Bridgestone tyres.
His season got worse when after not even one lap, he crashed out of the season opener in Qatar, this was before his now infamous jump start in Austin. Fitness issues in the flyaway races, before eventually struggling in the changeable conditions of Cheste, Lorenzo's season was a season to forget.
What his rough 2014 has done, is ensured that he is extra motivated for 2015, and the double World Champion is ready to launch an assault to reclaim his crown.
"I am now at about 70% of my effort for training," explained the Mallorcan during a annual dinner with his Fan Club in Barcelona.
"From January we'll be back to maximum power to be better at the beginning of the season. I am looking forward to first relaxing and then to training very hard.
"When you are already a World Champion in MotoGP, you want to repeat it. Second place is good, third place is good, but obviously we are here to try and win. We know it is not going to be easy because Marquez and Honda together are very strong; they are a very strong couple.
"But I think if we put in all of our efforts – if the Yamaha is good and so am I, from both a physical and mental side – I think I can fight."
Saturday marked the fifth year Lorenzo had run this event for his Fan Club, and it is a recent tradition that he wishes to continue for as long as he can, as he enjoys the opportunity to interact with his fans from across the globe.
"2009 was the first time and now, after this difficult season, to be surrounded by so many people from around the world for our sixth Fan Club dinner – 40 people from Italy, obviously lots from Spain, but also from Japan, from Poland, Germany and England – is wonderful and we're having fun."