Jorge Lorenzo: I was 4-5kg too heavy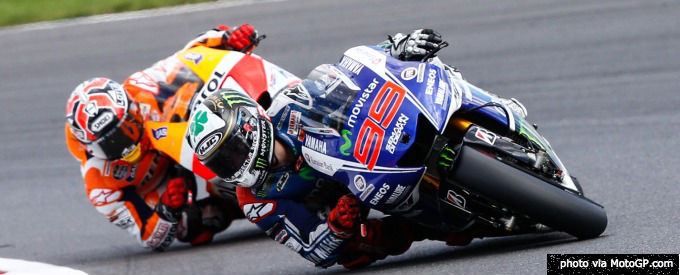 Former MotoGP World Champion Jorge Lorenzo has said his poor offseason cost him a chance of the 2014 MotoGP World Championship, insisting he came back overweight.
Lorenzo endured a disastrous start to the 2014 season, a fall on the first lap in Qatar, and then an almost comical jump start in Texas, Lorenzo found himself over 50 points behind Marc Marquez, after just three rounds. A gap that would nearly double as the season went on as Marquez won a record breaking thirteen races in 2014. 
Off-season surgery and therefore starting the season behind the eight-ball meant Lorenzo was struggling to ever seriously challenge Marquez.
"I was 4-5kg too heavy," said the Mallorcan.
"I could still do up my leathers, but my stomach was a bit too big!"
Despite not starting the season well enough, Lorenzo took positives from his form in the second half of the season, which saw him the rider who accumulated the most points out of any rider since the paddock reconvened after the summer break. Lorenzo claimed 8 podiums, including two wins, in nine races after the summer break demonstrating the form more reminiscent of the Lorenzo of old.
"If the championship had started at Indianapolis we would be leading it. I know it doesn't work like that, but it demonstrates that the beginning of our championship was a disaster and we lost a lot of points," the 27 year old explained. "It should make us know that we need to be more ready and better prepared from the beginning of next year."
Lorenzo's second half of the season form didn't just give him self satisfaction, it also impressed his Yamaha boss Lin Jarvis who acknowledged that a troubled off season meant Lorenzo spent the whole season playing catch up.
"Valentino was strong from the beginning of the season but Jorge was not as strong as he could and should have been. And of course he had two errors in the first two races which put him very much on the back foot," said Yamaha Racing managing director Lin Jarvis.
"If we look at the performance from Jorge at the end of last season – which was phenomenal after the collarbone breaks – he had surgery, he had some changes in his organisation and planning and I don't think he will be doing the same things again next year.
"So I think a combination of things needed to be improved [at the start of this season] and Marc of course was sensational. So from the very, very beginning there was this incredibly high level."
Indeed Marquez' level was noted and appreciated by Lorenzo, who didn't think Marquez' mistakes came about in the second half of the season due to how closely he rides to the limit rather than down to nerves or pressure. 
"I think he is a rider that risks a lot," he said speaking about the double World Champion.
"And when you risk a lot you have more possibilities to make some mistakes, or to crash, or to get injured.
"So that is why he is very fast – he is very talented, he is very brave, but also he takes a lot of risks. Probably this year less than the first year. Last year there were a lot of crashes, this year less.
"But obviously he keeps pushing a lot and this gives you more possibilities to crash."
Source: crash.net