Maverick Viñales to Suzuki MotoGP in 2015?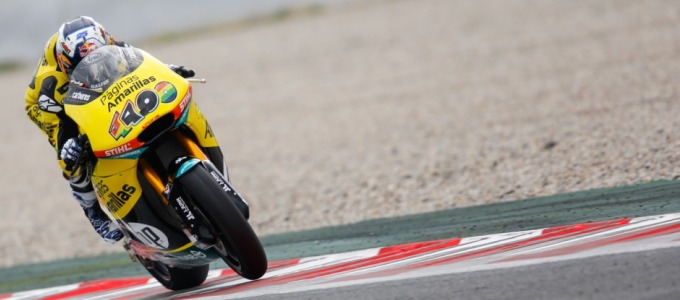 Reigning Moto3 World Champion and Moto2 title contender Maverick Viñales may have signed a deal to join the Suzuki Factory team in 2015.
Suzuki will be returning to the MotoGP paddock after leaving at the end of the 2011 season. After a three year hiatus, they return next season with a new XR-H1 MotoGP bike. The new bike is an 1000-cc inline four-cylinder engine, rather than a V4 engine, which they used to use, and has been tested relentlessly by Randy de Puniet and Nobuatsu Aoki for the past month.
Despite the money that he been invested, the tests have seen Suzuki over two seconds off the pace in the tests that have been run by the main Factory riders. Whilst rider ability has to be considered, it's not the results Suzuki would've hoped for.
However, it would appear that it doesn't bother one of the biggest names in Grand Prix racing, as Maverick Viñales is understood to have signed a deal to ride the Suzuki in 2015.
Team manager Davide Brivio had come out and said he would like to sign a top ten rider, along with a young rider, but nobody could've expected the young rider to be arguably the highest rater rider not in MotoGP.
Dominique Aegerter was odds on favourite to be the young rider that Brivio was referring to, but at the Sachsenring, it was let slip that Viñales was the rider that Brivio was referring to. 
"We want an experienced rider, such as Dovizioso, Espargaro or Iannone, although they are not all available," Brivio told UltimateMotorCycling.com. "And in looking for a young rider, Espargaro and Iannone are young, but Viñales is a young talent who will clearly move quickly to the MotoGP class in the future. I hope he comes with us, but I don't know yet.
"I don't know if we will move forward with one young and talented rider, or with two experienced riders. The idea of ​​a mix of experience and youth is nice and it could be interesting to work with a young rider, but we haven't decided," he continued.
"There are several interesting riders, and I have to say also that there are several riders who deserve a factory ride. It's a very difficult choice, and some of them will be angry with us, because we've spoken with at least ten of them."
It is not specified if Viñales has signed already, or if he has just signed a letter of intent with the team (we know what a letter of intent can, or cannot mean, see Miller vs. Marc VDS) but there are complications if Viñales does want to sign for Suzuki. The 19-year old signed a two year contract with Sito Pons Moto2 team at the end of 2013, meaning he is contracted already for 2015 on the Kalex. 
There is, however, understood to be an agreement between Sito Pons and Maverick Viñales, saying that Viñales can move up to MotoGP after just one year, if Viñales were to receive a genuine offer from a big MotoGP team. Suzuki would still have to buy out the second year of his contract, and Brivio is aware of this, but it is expected Sito wouldn't put up a fight.
Another reason Sito Pons is said to be accepting the loss of Viñales next season is because he is looking at Alex Rins who is expected to move to Moto2 next season. Luis Salom is still contracted for 2015, and with competition expected from Marc VDS, Aspar and every team in Moto2, Pons is hoping a race winning bike in a Spanish team will be enough to persuade Rins to replace the outgoing Viñales. Pons is also said to be interested in Rins' team mate, Alex Marquez, should he also make the move up at the end of the season, but there is a suggestion that Emilio Alzamora would be interested in putting Marquez in his own team on a Suter much like older brother Marc had back in 2011 and 2012.
With Andrea Dovizioso and Cal Crutchlow also rumoured to be in contention for a seat at Suzuki, Viñales would certainly have experience on the other side of the garage to him, but whether the ultimate package is much of a step up from a genuinely challenging Moto2 team is a question fans have been asking since hearing the news.