Miller survives first MotoGP crash; finishes Sepang test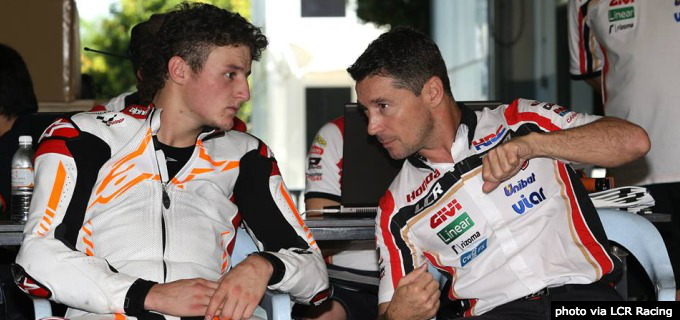 Jack Miller survived his first crash as a MotoGP rider today in the final day of testing in Sepang.
Miller, who has been in action for the three days in a private test in Malaysia is making the leap from a Moto3 bike to a MotoGP machine for next season, and has been progressing rapidly in Malaysia.
The 19 year old Australian was back on his new Open Class 2015 Honda, and knocked the better part of one and a half seconds off his best time from the first day of the test. Miller's best time of the day was a 2'02.9, compared to his 2'04.2 from Wednesday.
The 2014 Moto3 runner up once again only managed to get 33 laps in as the rain fell around 4pm prematurely end the test.
"In general I was really happy with how the bike went, we made more improvements today and every time I get on it I feel more and more comfortable, and that means I'm getting faster and faster," explained the Aussie.
"I can't thank the CWM LCR Honda Team enough for their hard work, and Honda too for their support, they are all teaching me really well how to ride in MotoGP."
Miller's first MotoGP crash was a small spill, rather than an aggressive highside as James Toseland and Marco Simoncelli did before their MotoGP debuts.
"We had a small crash in the morning, but it was nothing serious and there was no real damage to the bike, as it was at slow speed carrying a bit too much lean angle over a couple of bumps. All in all, I would say I'm very happy how the bike worked during the whole test. It has been positive."
"Jackass" also acknowledged that he needs to work, and improve his strength and conditioning ahead of his next test, when the whole MotoGP paddock will join Miller in Sepang, in early February. 
"I'm looking forward to the off-season now, and I'll be training hard and getting my body in the physical condition needed for MotoGP," he noted. "We managed a long run today and whilst it was really hard, my body stood up to it, so I look forward to coming back even stronger in February."
Miller will now fly to back to Europe, to undergo surgery an on older injury. He will fly to Barcelona to be operated on by the rider favourite Dr. Xavier Mir, in the Dexeus University Hospital in Barcelona, Spain. He will have four screws removed from an old collarbone injury, and the operation shouldn't have any detrimental effects on his pre-season preparations.