Miller enjoys first day of testing in Sepang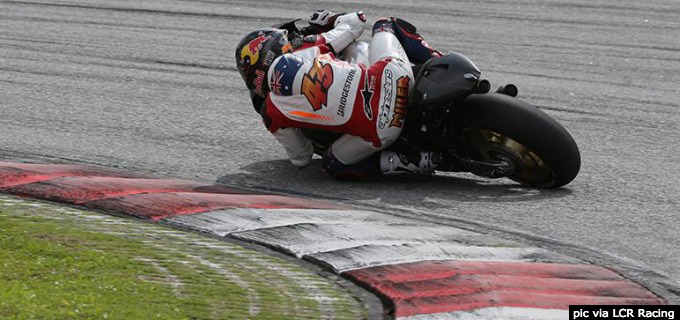 A few days after his crew chief said he could see the similarities between him and Casey Stoner, 2015 MotoGP rookie, Jack Miller enjoyed his first day of testing on the new RC213V-RS in a private test in Sepang.
Miller, who has made the highly controversial jump directly from Moto3 to MotoGP, is enjoying a private test in Sepang, granted to him by the organisers due to his rookie status ahead of his debut campaign in 2015. The Aussie, who made his MotoGP debut on the 2014 customer Honda in the Valencia test, got his first chance aboard the new 2015 version in Malaysia today.
As well as having the more powerful bike underneath him, the big, wide, open, sweeping nature of the Sepang International Circuit, as well as it's two huge straights meant Miller got a better taste of what a MotoGP bike is capable, and he enjoyed what he got his hands on.
Miller managed a best time of a 2'04.92, which is the best part of three seconds off what top customer Honda rider, Hiro Aoyama, managed during the MotoGP race there six weeks ago. But with only three other bikes on track, the circuit took a while to clean up and become grippy.
Despite only managing 39 laps during the whole day, due to rain in the late afternoon, it was enough laps for the 19-year old described the bike as incredible and loved the chance to explore it's full potential.
"Today we got a chance to learn another track on the new bike, and it is a completely different style here compared to Valencia," Miller explained after the first of three days in Malaysia.
"It was actually quite a difficult day because the bike was slipping and spinning up quite a lot with there not being many bikes out on track. By the end of the day, though, I started to really enjoy myself.
"I'm learning more and more how to adapt my style to the CWM LCR Honda, and how to set it up a bit better. The bike is still incredible, I'm really happy with the power it has and so to ride it here in Malaysia and be able to use its full potential is great.
"Tomorrow we will continue working on my riding style and we'll see where I get to in the end."