Aprilia maximise the use of limited track time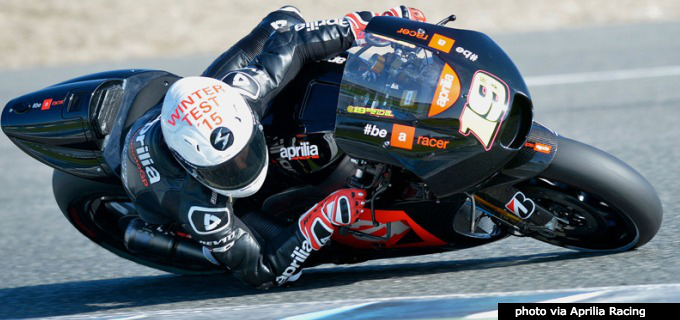 The returning Aprilia made the most of their limited track time during their final test of 2014 ahead of their full time Grand Prix return in 2015. 
Aprilia were debuting their new V4 featuring its pneumatic valve engine in Jerez, and both Alvaro Bautista and Marco Melandri were on hand to continue their preparations before the winter testing ban was introduced. The weather meant that dry track time was rare, with only one dry day out of the three they were in Southern Spain.
"Despite the bad weather, we have gathered a lot of information, mostly positive," said Aprilia's Romano Albesiano after the test.
"This was the first opportunity for extensive use of the pneumatic valve engine, which has proven very promising in terms of maximum power and manageability. Despite this, there remains a lot of work in terms of mapping settings.
"Alvaro continued to adapt to the Aprilia in a positive fashion but, as is always the case, there is still room for improvement. As for Marco, he continued his apprenticeship with the Bridgestone tyres – a rather complex issue over these days and something we will continue to look into when we get to Sepang."
Bautista was impressed with the bike in Valencia, and during this test he, and Melandri, got to try the new V4 engine, complete with the now essential pneumatic valves, one marked difference from the RS4V World Superbike Championship winning bike. The new engine didn't come out until the second day, as Aprilia used the first day to work on set up and tuning the electronics. 
Bautista managed to complete 131 laps over the three days, with a best lap time of 1'40.6, which was just over a second off his qualifying time from the Grand Prix racing at Jerez in May. Melandri also got over 100 laps in, lapping 123 times over the three days and his best time was a 1'41.5, as he continues to adjust back to the Bridgestone tyres and carbon brakes. 
"We can be satisfied with the way things went, even if the foul weather slowed down our work," said Bautista after the final day of testing.
"During the first day I continued using the bike in the same configuration as the recent tests in Valencia. We concentrated on the chassis set up, finding a few solutions that I liked and the allowed us to get to know the bike fully. On the second day I was able to use the new pneumatic valve engine. It has a lot of power but there is still a lot of work to do in terms of distributing it.Today we took a few laps in the wet which were useful in any case to assess the characteristics of the new engine in these conditions.
"Now we will start the winter break. I'll take a bit of a rest to recover from this long season, after which I'll get back to training so that I'm ready for the tests in February."
Melandri wasn't as happy as Bautista after the test, but he is optimistic that once he gets some more miles under his belt on the new bike, it was start coming together for him. 
"These were three interesting and very demanding days at the same time," explained the Italian.
"Lap after lap I am figuring out more and more where I need to improve and what I need in order to feel at ease. I still feel quite self-conscious. I think we'll need to put in a few kilometres to find the right feeling.
"The new engine had a few growing pains, which is normal in this phase, but we have already seen what its positive sides are and where we will need to concentrate on improving it. We have a long period of down time ahead of use which we'll use for development so that we're ready for the Sepang tests.
"All the guys are working hard and the whole team is very enthusiastic. This is an atmosphere that gives me high hopes."