Gabarrini sees Stoner similarities in Miller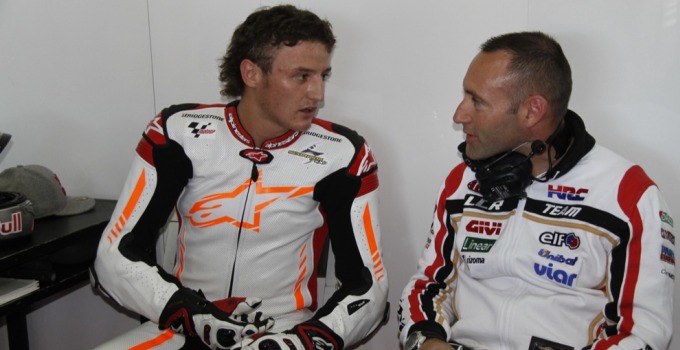 Next season Honda will field an Australian rookie in the LCR team. His crew chief will be Cristian Gabarrini and he has come up directly from the smallest class of Grand Prix racing. No, it isn't 2006, it's 2014 and the rookie in question is Jack Miller, although the similarities between Miller and Stoner are very evident.
Jack Miller will make the highly controversial jump from Moto3 to MotoGP next season, but in the LCR team, under the guidance of Lucio Cecchinello and Cristian Gabarrini, arguably HRC have placed two of the best men alongside Miller as he prepares for his debut season in the pinnacle of Grand Prix racing.  
Italian crew chief Cristian Gabarrini will return to crew chief duties with the Australian, his first job in the role since Casey Stoner left at the end of 2012. He had his first test with his new rider in Valencia, and he was impressed with what the rookie showed him during the three day test in Spain.
"It was a very positive experience. Jack has proven that he has a calm mind," Gabarrini told GPone.com whilst talking about Miller. "He listens carefully and takes advice.
"First, he should understand the characteristics of the new class – the tires and the behaviour of the bike."
Naturally comparisons would be made between Miller and Casey Stoner with his passport, crew chief and LCR Honda being his first team in MotoGP. Gabarrini remains close to Stoner, working with him in his recent test in Motegi, and he did little to downplay comparisons between the pair of Aussies.
"Casey is like a younger brother to me, and I've only recently met Jack. But I think that they have the same attitude to racing. Both had problems while they familiarised themselves with the bike. Only when these were resolved, they took care of the finer details. Jack has quickly adapted to the new machine."
Casey Stoner was a big campaigner for less electronics on a MotoGP bike, and there was a degree of shock when Gabarrini explained that during his first test on the Honda, Miller rode with virtually no electronics.
"We only had the electronics that made riding safer, to avoid a highside. The torque was no circumcised, and the set up was hardly changed. We had to work on the fork and the front tyres to increase stability and security under breaking. Why? In order to be fast with these bike you have to know how to slide properly.
"The jump is huge for Jack when it comes to the power and the weight of the machine, but his talent allows it. He quickly learned how to control the spin of the rear tyre without electronic aids."