Jack Miller's move to Marc VDS confirmed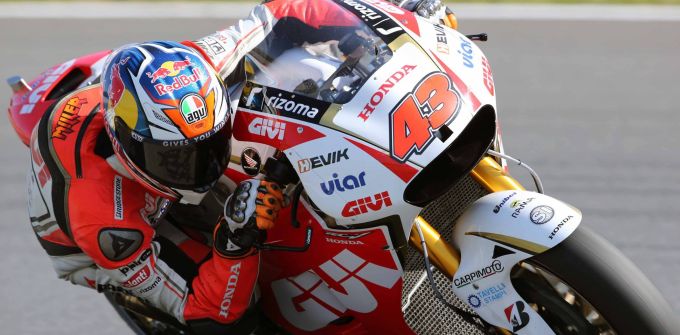 Jack Miller's move from the LCR Honda team to the Marc VDS Estrella Galicia 0,0 was confirmed today, on the eve of his first Australian Grand Prix as a MotoGP rider.
Miller will join the newly expanded Marc VDS set up, alongside Scott Redding's replacement 2014 Moto2 World Champion Tito Rabat. There has been no confirmation as to what bike Miller will be on next season, but rumours are suggesting he will be on a 2015 RC213V, much like the bike Redding has been riding all season, although Miller isn't sure exactly what bike he will be on just yet.
"I'm not sure yet to be honest," said Miller, who'll bring his entire crew over from LCR Honda, including Casey Stoner's former crew chief Cristian Gabarrini.
"Honda are still developing their bike and we need to wait until the factory boys test it to know what our package will be.
"I am very enthusiastic on this possibility with Honda and the Marc VDS Racing Team. I know Marc VDS is a good, strong and experienced team, and they can build a good structure for me to fight for good positions next year.
"As we both have already one year of experience from the top class, I feel that we can gain from the experiences we have to achieve good results together with Honda."
Miller's move to Marc VDS doesn't come without an element of surprise. Just over 12 months ago, Miller was engaged in a legal battle with the Marc VDS team, over a "biding contract". Miller was approached by HRC to move straight into MotoGP, whilst Marc VDS insisted the 2014 Moto3 runner up had already signed a deal to race for them in Moto2.
Miller signed a three-year deal with HRC with guarantees of being provided a Honda bike in 2016 and 2017. There was hope that Miller would take a seat at the financially struggling Aspar team, however the Spanish outfit look set to move to Ducati equipment for 2016.
Despite the contract woes from last year, Marc VDS Team Principal Michael Bartholemy said there is no bad blood between the two parties.
"It's good to be able to finally welcome Jack to the Marc VDS Racing Team. We wanted Jack in 2013 because we could see he had the talent to succeed and that hasn't changed," said Bartholemy, who instead signed eventual Moto3 World Champion Alex Marquez to have the second Moto2 seat at Marc VDS.
"This was always going to be a difficult transition season for him, having jumped straight onto the MotoGP bike from Moto3, but he's done a solid job so far. Next year Jack will benefit from having the Marc VDS Racing Team behind him and, together with a competitive bike, I'm confident that this is exactly what he needs to realise his full potential."
Whilst HRC will just be asking that Miller continues to improve, team owner Marc Van Der Straten has slightly loftier ambitions for the young Australian.
"We are happy to welcome Jack to the Marc VDS family, even if he is 12 months late arriving," he said.
"He comes to the team with a year of experience in MotoGP and I expect to see him well inside the top ten on a regular basis next season. For the team it is good to have two riders in the premier MotoGP class; they can learn from each other but, equally importantly, they can push each other every weekend. Both Jack and Tito are ultra-competitive and I expect we'll see some exciting battles between the two of them next season!"
Miller is currently eighteenth in the MotoGP World Championship, achieving a best finish of eleventh place in Catalunya.
Photo via LCR Honda