Bastianini gets his first taste of the Honda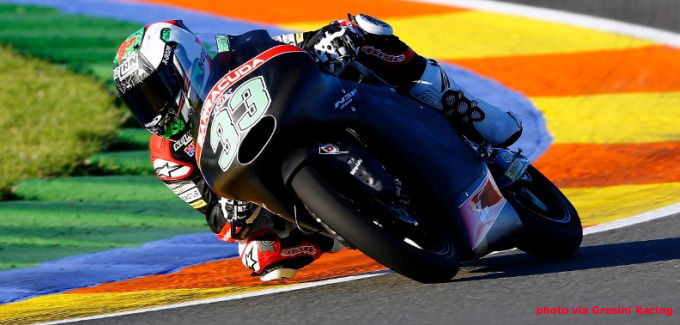 When Honda realised they were going to loose both Alex Rins and Alex Marquez for 2015 they realised they needed some new talent for 2015 in order to sustain a title challenge rather than relying on rookies Fabio Quartararo and Jorge Navarro. Today, their new recruit Enea Bastianini got his first taste of his new bike.
With both Alex's leaving Honda's flagship Moto3 side they sought a new team to run their machinery for 2015. They had two targets, the VR46 Sky team, to run Romano Fenati, and the Gresini team, to run Enea Bastianini. Both sides had renewed their contracts with KTM for 2015. But, the power of HRC eventually told.
The VR46 team weren't willing to break off their deal with KTM, but Gresini were. The Honda looked to just have the edge over the KTM, especially towards the latter end of the season, and that was enough for the cash strapped Italian side.
In Bastianini, Honda have just secured the 2014 Moto3 rookie of the year. The 16 year old Italian claimed three podiums in his debut year, which was enough to help him finish ninth in the World Championship aboard the KTM.
This weeks two day test in Valencia gave Bastianini his first taste of the new Honda NSF, and he really likes what he has for next season.
"The Honda is a completely different bike from the one I used to ride, but today we could begin to get acquainted to it, doing the many kilometers and making a very good job," said Bastianini.
"In particular, I immediately liked the behaviour of the chassis; on this first day we tried to find the feeling with the bike, then we have already started to make some changes to the set-up to adapt the bike to my needs."
He continued, "today we continued to discover this new bike, making some other changes to the set-up in an effort to improve my feeling with the bike. I can be satisfied with the work, because at the end of the day I felt really comfortable.
"Obviously given that so far I've been riding the Honda only for two days, there is still much work to do, also from the riding style side. I had to change the way I ride and the upcoming test at Almeria will be important to improve also from this point of view." 
The Almeria test in reference is a private test, and will run across the 24th and the 25th of November.