Alex Marquez already happy on his Moto2 machine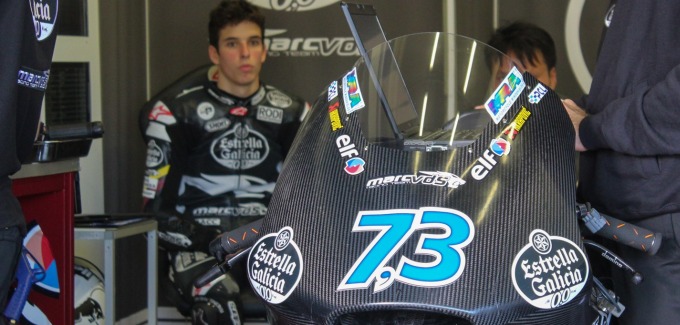 On Sunday Alex Marquez was claiming his first World Championship, on Monday he was riding a MotoGP Championship winning bike with his older brother, since then he has been in Jerez trying his new Moto2 machine, and he is happy with what he's got.
The 18 year old Moto3 World Champion will ride for the Estrella Galicia 0,0 Marc VDS team next season in Moto2, on of course a Kalex chassis. He got his first taste of his new 130 horse-powered Moto2 machine on Wednesday and despite the rain setting in and hampering the test, Marquez the junior likes what he has seen so far.
"Overall, I'm happy, even though the weather during the three days wasn't the best," said Marquez whilst speaking to speedweek.com.
"Despite the wet track we have already worked on the set-up of the machine. In the wet we are not slow, and in the dry, I only rode 50 laps. I need more miles to convert me and to improve the setting."
Jumping from a 250 up to a 600 isn't going to be an easy transition for Marquez, but the inital signs of the bike excite Marquez, and he hopes that the weather next week in Valencia is better than the conditions encountered in Jerez, when some riders head back to Valencia for a private test next Monday and Tuesday.
"My first impression of this bike is very good. I enjoyed riding it. You have to go softer than with Moto3 bike, but can it play with it more. I have a lot of fun."
"There, I hope for better weather. My job will be to spend as many laps on a dry track. I have yet to improve my feel for the machine significantly, under normal conditions."
Despite the added power and wet conditions, Marquez still impressed on his first outing on a Moto2 machine, posting a best time of 1:54.855.