Scott Redding's first ride on the factory Honda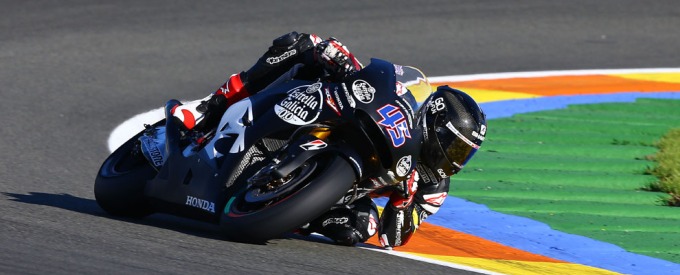 Scott Redding got his first taste of the Honda RC213V today as he made he highly anticipated return to the Marc VDS team. 
Redding, who will return to the Marc VDS team after one season away, but with a factory Honda underneath him for the first time. Redding, who ended his first season as the top customer Honda rider, ahead of experienced riders such as Hiro Aoyama and Nicky Hayden, put his first laps in on a bike very similar to the one Marc Marquez dominated the 2014 season on. 
With only 36 laps under his belt, Redding ended the first day of testing in 15th position, just over two seconds slower than Lorenzo's fastest lap of the day.  
The RC213V caught Redding out with just how different it is to the RCv1000R that he rode throughout the 2014 season.
"Today was quite a surprise, because the RC213V is very different to the RCV1000R I've been racing this season, much more than expected. It was like riding a completely different bike, so it took a bit of getting used to," said the Brit.
"I didn't want to go out there and push for a fast lap only to hit a wall with the lap time, preferring instead to take my time and learn the bike, building up the pace as we go. My lap time improved with every exit, so I'm happy enough with the progress we made today.
"I'd have preferred to be a little bit quicker, but I'm happy enough with the progress today and I'm confident that over the next two days, as I get to know the bike and my crew a little better, and they get to know me, we'll see some improvements."
Redding and his Marc VDS team will be hoping the weather stays fair so they can continue to develop as a new team, allowing Redding to continue to build his relationship with his new crew chief Chris Pike. 
As well as having a new crew chief, Redding will take time to get used to the Brembo brakes and Ohlins suspension. Redding had been using the less preferred Nissin brakes and Showa suspension in the Gresini team.